Bridget Jane Vian
Graphic Design | Web & Digital Media Design
My ultimate goal in life is to create beautiful things for people who love them. I believe that every design project deserves a keen eye and dedicated attention to make it special. I have a knack for color and pattern and enjoy creating striking color and texture combinations. My background in metal arts, teaching art, quilting, human resources, and mass communication gives me a unique set of skills that make me the artist I am today.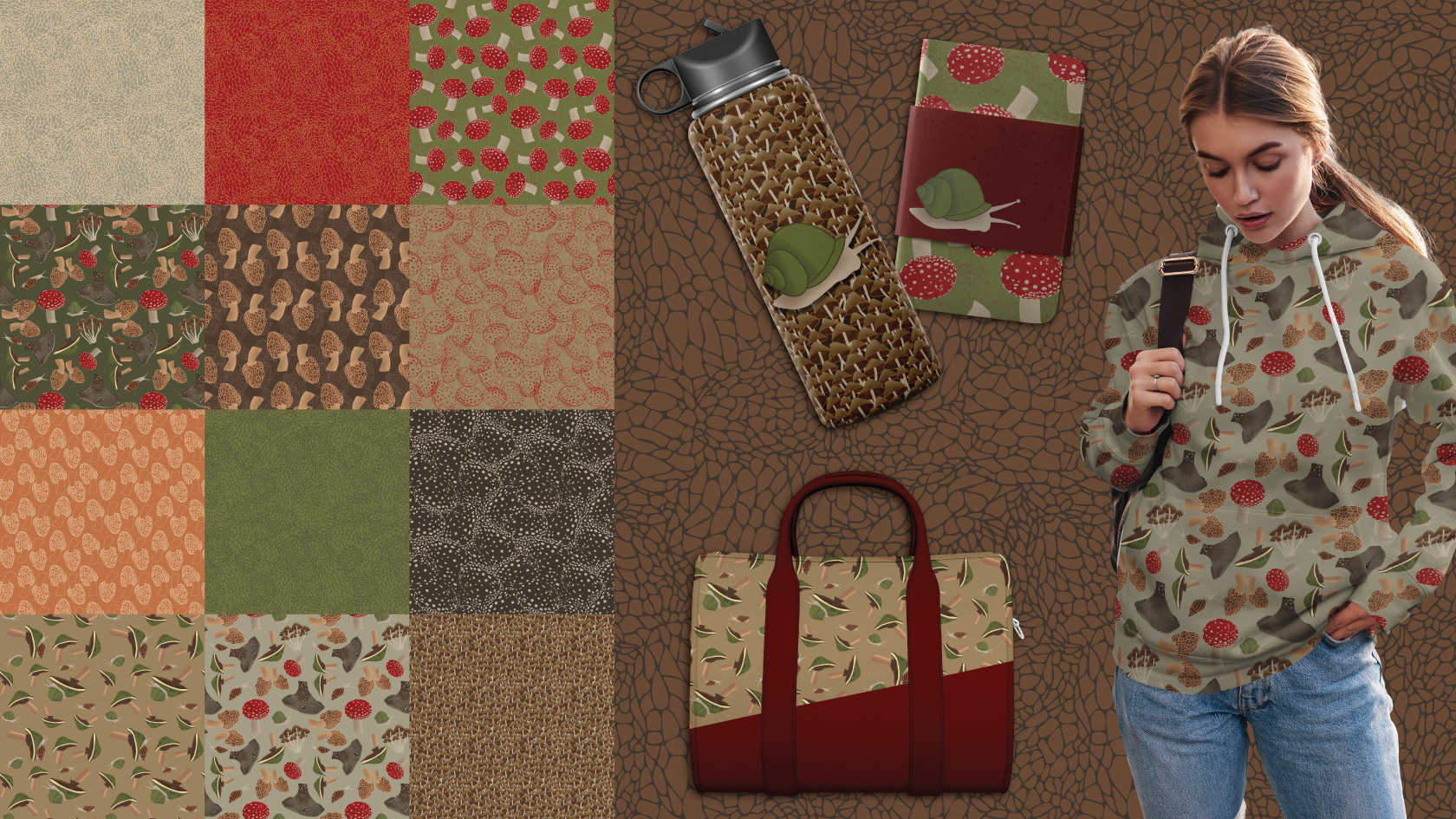 Mushrooms - Pattern Collection
This collection of patterns was sparked from an online pattern design challenge to go from mood board to pattern in one week. The hero pattern is from this challenge. I expanded the hero assets into different patterns to complete the collection. The blenders include textures from within the smaller elements.
Skills:

pattern design, concept development

Programs:

Fresco, Illustrator, Photoshop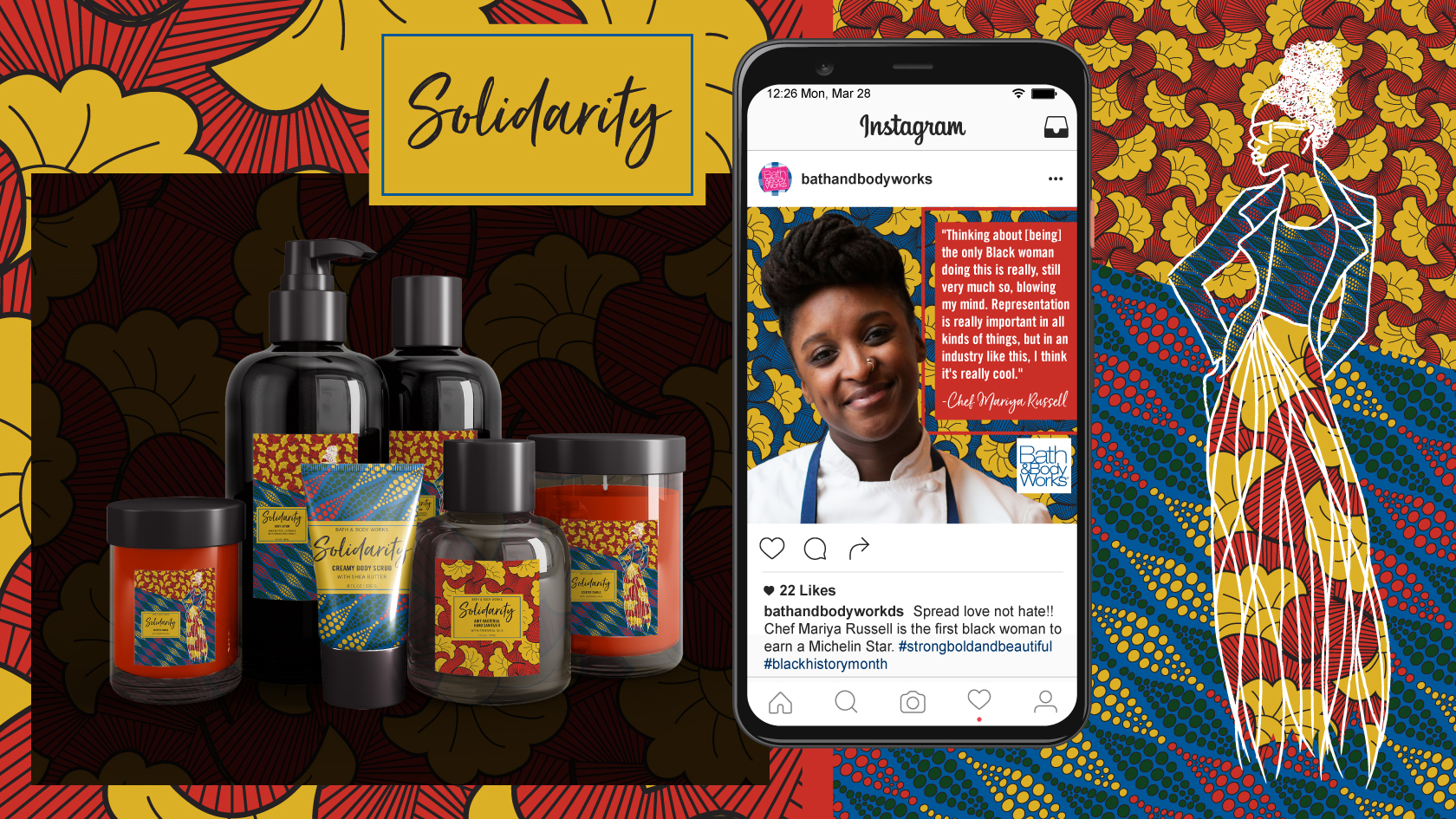 Bath & Body Works - Black Heritage Month Campaign
Bath and Body Works is a personal care and beauty product retailer that is focused on creating exceptional fragrances. They are committed to creating a diverse, equitable, and inclusive culture. To honor those values, Bath and Body Works celebrates Black Heritage Month by highlighting the accomplishments of Black women from different professions and developing a limited edition fragrance. I drew and digitized these patterns with inspiration from the bold prints and colors of traditional African wax canvas
Skills:

pattern design, social media campaign, advertising, product design

Programs:

Photoshop, Illustrator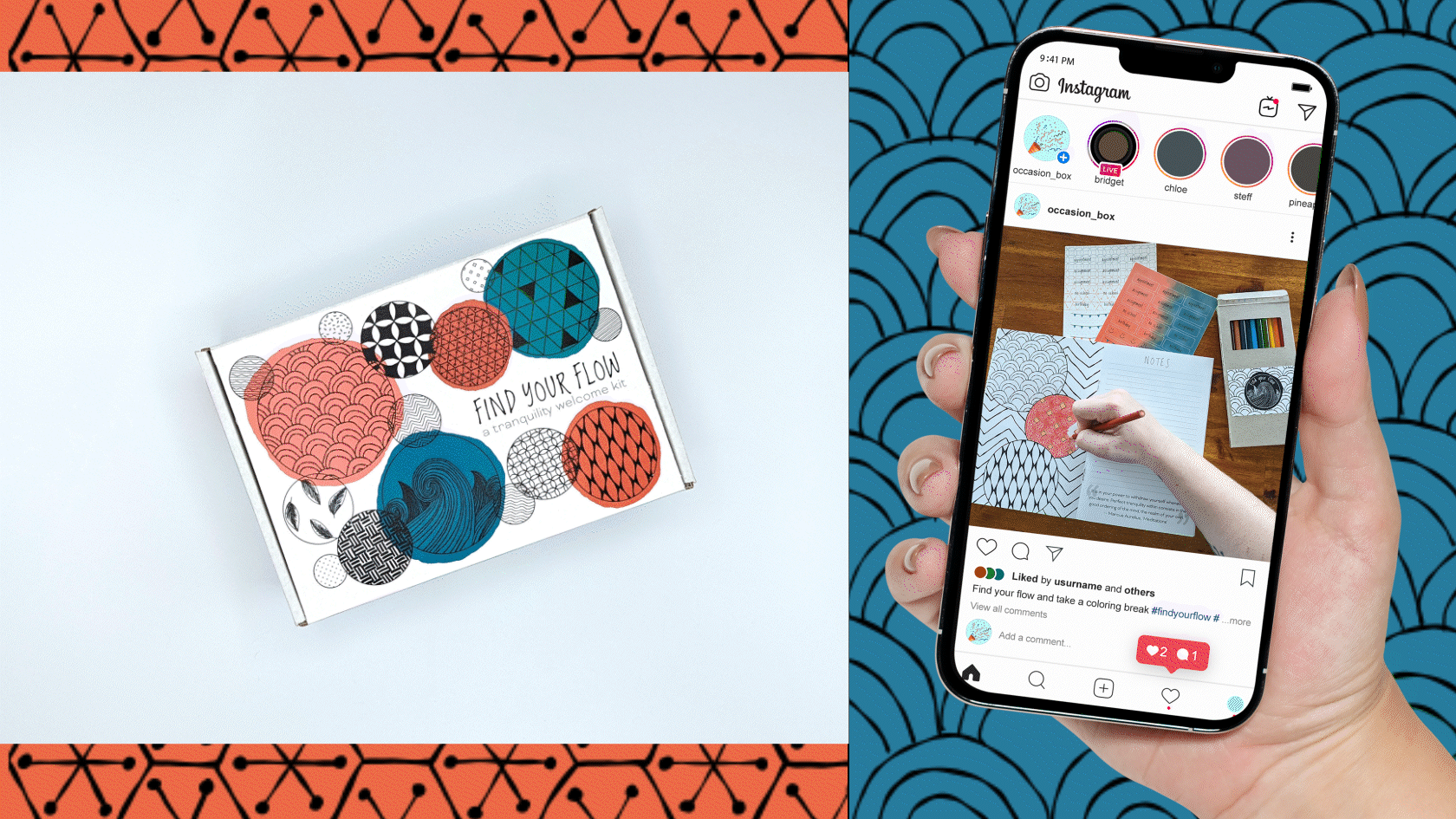 Tranquility Welcome Kit - Relaxation and Mindfulness Kit
The Tranquility Welcome Kit is a set of items curated to create peace and mindfulness throughout a new college students' first semester and beyond. Find Your Flow by using the calendar with accompanying stickers to document your daily activities, commit to using the provided mindfulness techniques, and take a break with the zen coloring pages and colored pencils. Compliment your study break with a calming cup of tea. Create Your Zen in your study space with the mini sand gardening kit. Enjoy a daily dose of peace and mindfulness with this welcome kit. This project included staying within a budget, sourcing materials, and tracking print specifications.
Skills:

pattern design, concept development, branding, packaging design, photography

Programs:

Fresco, Illustrator, Photoshop, InDesign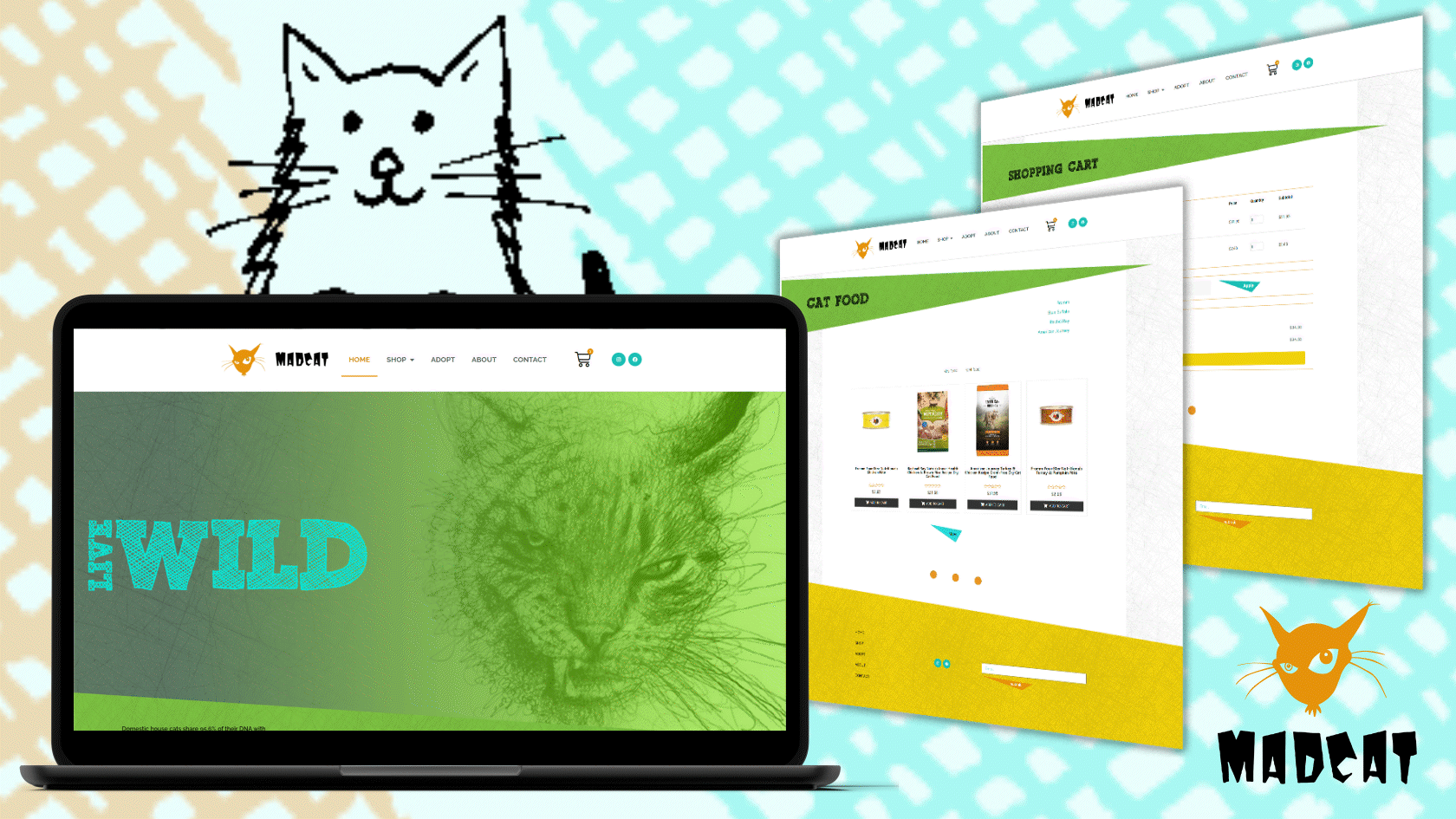 MadCat Pet Supplies - Website Design
MadCat's online presence is limited to Facebook and Instagram pages. There are a lot of customers who look for a website to peruse products, check out available cats, and get a feel for the company. This website design represents their vibrant and quirky store by combining fun, bright colors with cats' biological roots. Domestic house cats share 95.6% of their DNA with predatory felines.
Skills:

website design, illustration, wireframing, custom HTML coding

Programs:

Wordpress, Illustrator, Photoshop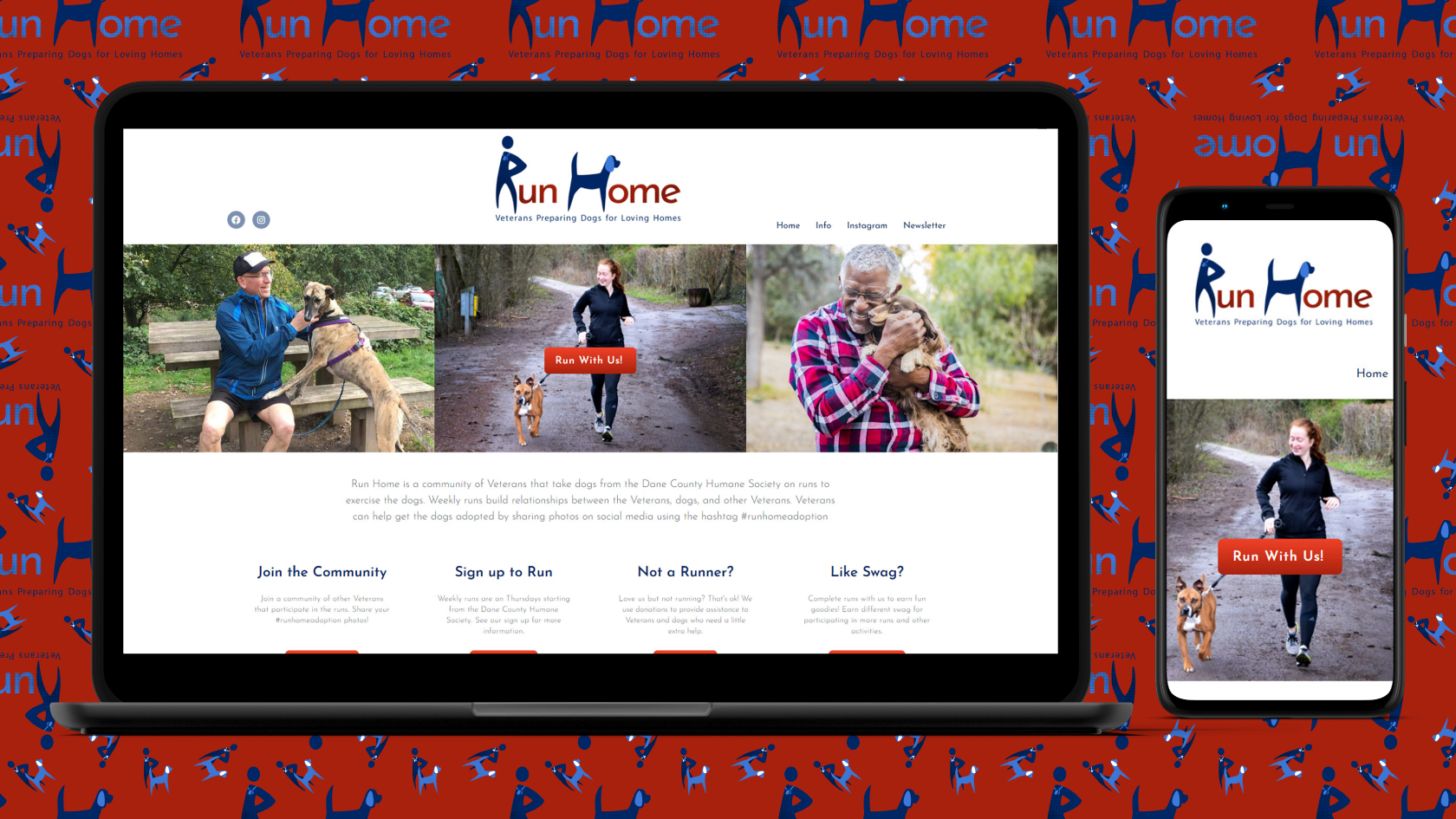 Run Home - Website Design
Run Home is a nonprofit that brings community and purpose to retired Veterans. Run Home establishes a community of Veterans to take dogs from the humane society for runs to exercise the dogs and build relationships between the Veterans, dogs, and other Veterans. Veterans can help get the dogs adopted by sharing photos on social media using the hashtag #runhomeadoption
Skills:

website design, pattern design, custom HTML coding, concept development, logo development, branding, advertising, photography

Programs:

Wordpress, Illustrator, Photoshop
MANIFEST
We believe, we take action, we produce, we achieve.
As creatives, we manifest dreams into reality, no matter the medium. We take ideas to the next level, transforming them, bringing them to life, and revealing more than meets the eye. Our potential is limitless; our imagination and passion are manifest.
Archived Portfolios