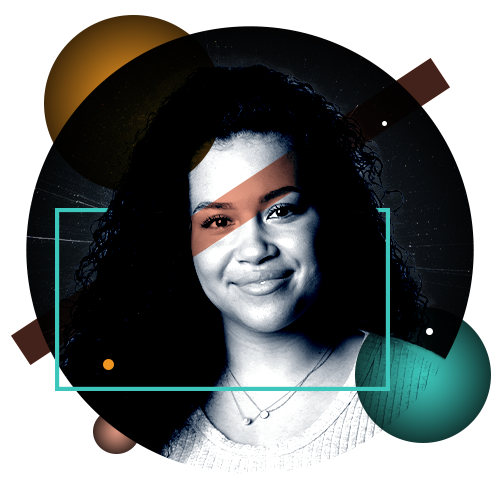 Carla Santorineos
Web & Digital Media Design
Hey there! I'm a digital designer and illustrator. I'm very passionate and diligent at creating digital work from coding websites and designing apps to making motion videos. When I'm not creating student projects, I'm usually working on my freelance projects with my awesome clients, or learning more about the infinite world of design. I've learned a lot throughout my experience as a designer over the years, it's humbling and intensive work, but I love it. Check out my website and send me a "hey!" so we can create something great together.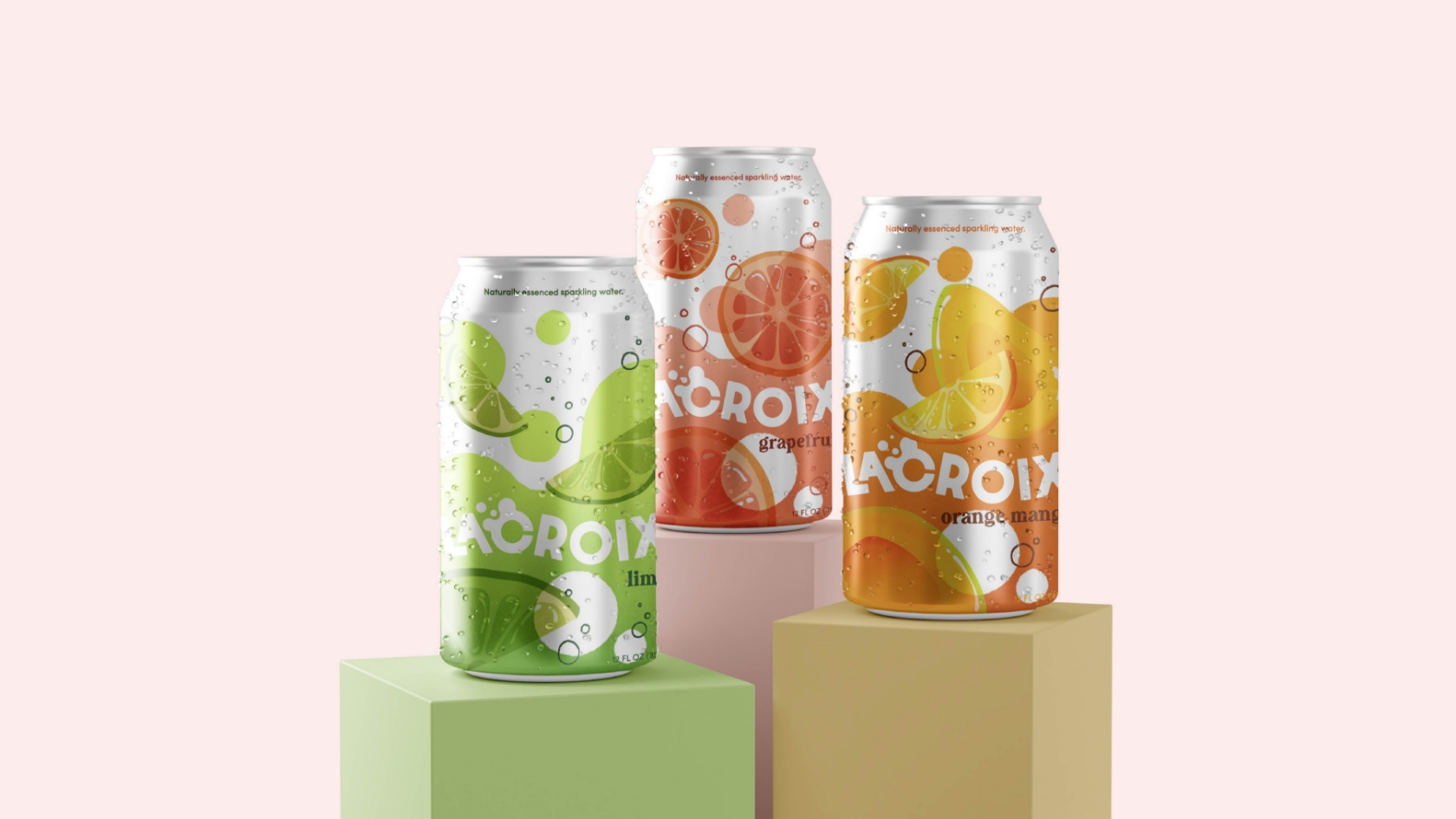 LaCroix Rebrand
LaCroix is one of America's favorite sparkling water brand, seemingly stuck in a 90s world and what I can only identify as the Dixie cup era, I decided to create a more modern and relevant rebrand concept.
The Lacroix brand packaging itself can be considered as vintage, retro, or even outdated. So with a solid reputation of being a reliable refreshment with a nod to pure ingredients and no added sweeteners, I was compelled to design a branding style that resembled just that.
After trial and error, the finished branding came to "fruition." With such a fun and fresh brand, it only felt right to include natural elements like fruits and leaves that incorporated visuals of each drink flavor. I also created illustrations and a handwritten typeface to keep the brand grounded and down-to-earth. Finally, the logo itself captures the fun, bubbly feeling that LaCroix shares with everyone.
Skills:

Brand Identity, Illustration, Typography, Packaging, Logo Design

Programs:

Procreate, Illustrator, Photoshop, InDesign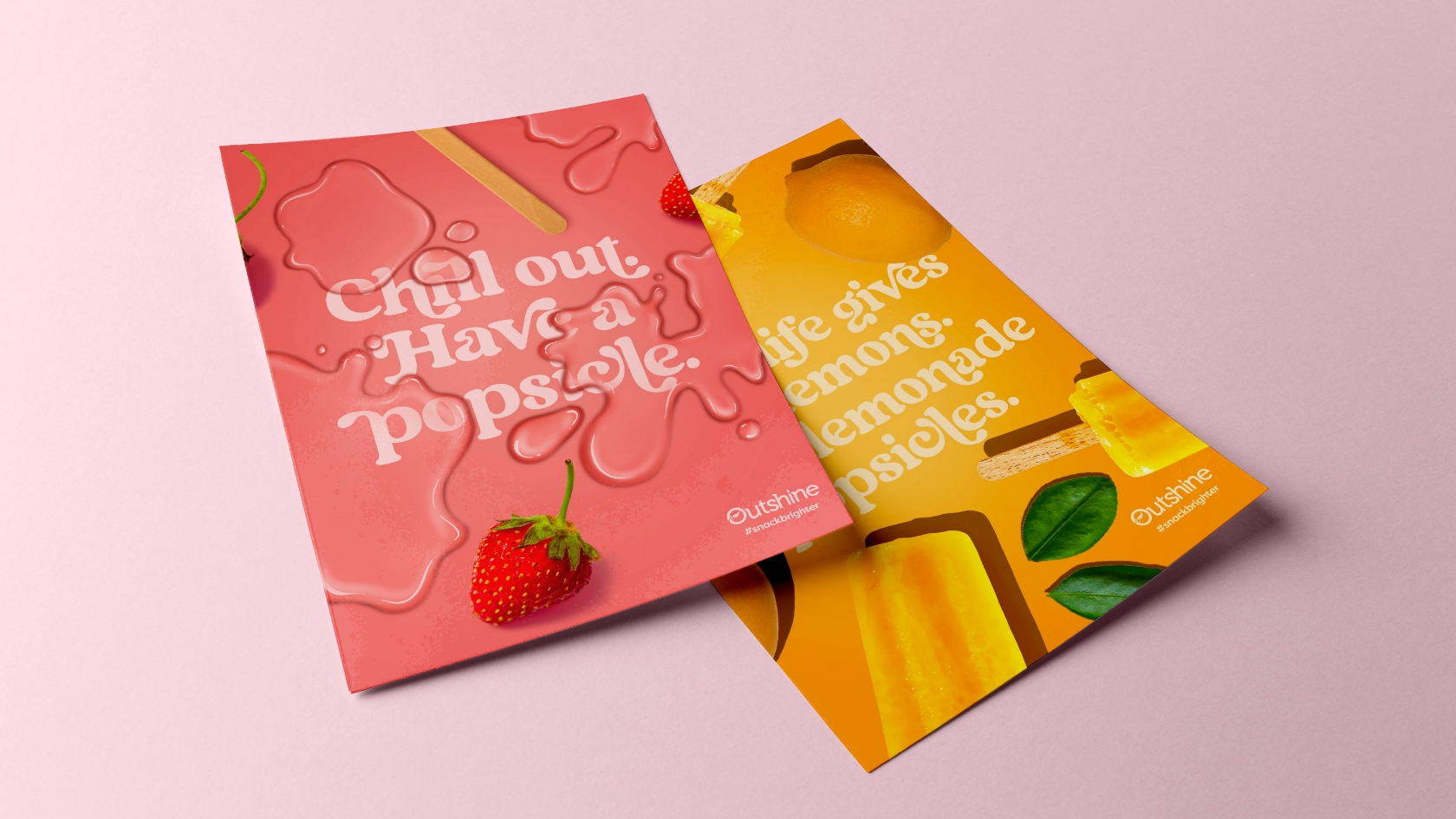 Outshine Print Ad Series
Outshine is a popular frozen fruit bar brand that you can find at your local supermarket. They're tasty, fruity, and best of all they're made with real ingredients! I wanted to create a typographic-focused print ad series that still maintained a similar visual style that Outshine already had and customers were familiar with. I used a beautiful, trendy typeface while boosting saturation in colors and including real photos of fruit to create a summer vibe.
Skills:

Typography, Illustration, Photo Manipulation

Programs:

Procreate, Photoshop, Illustrator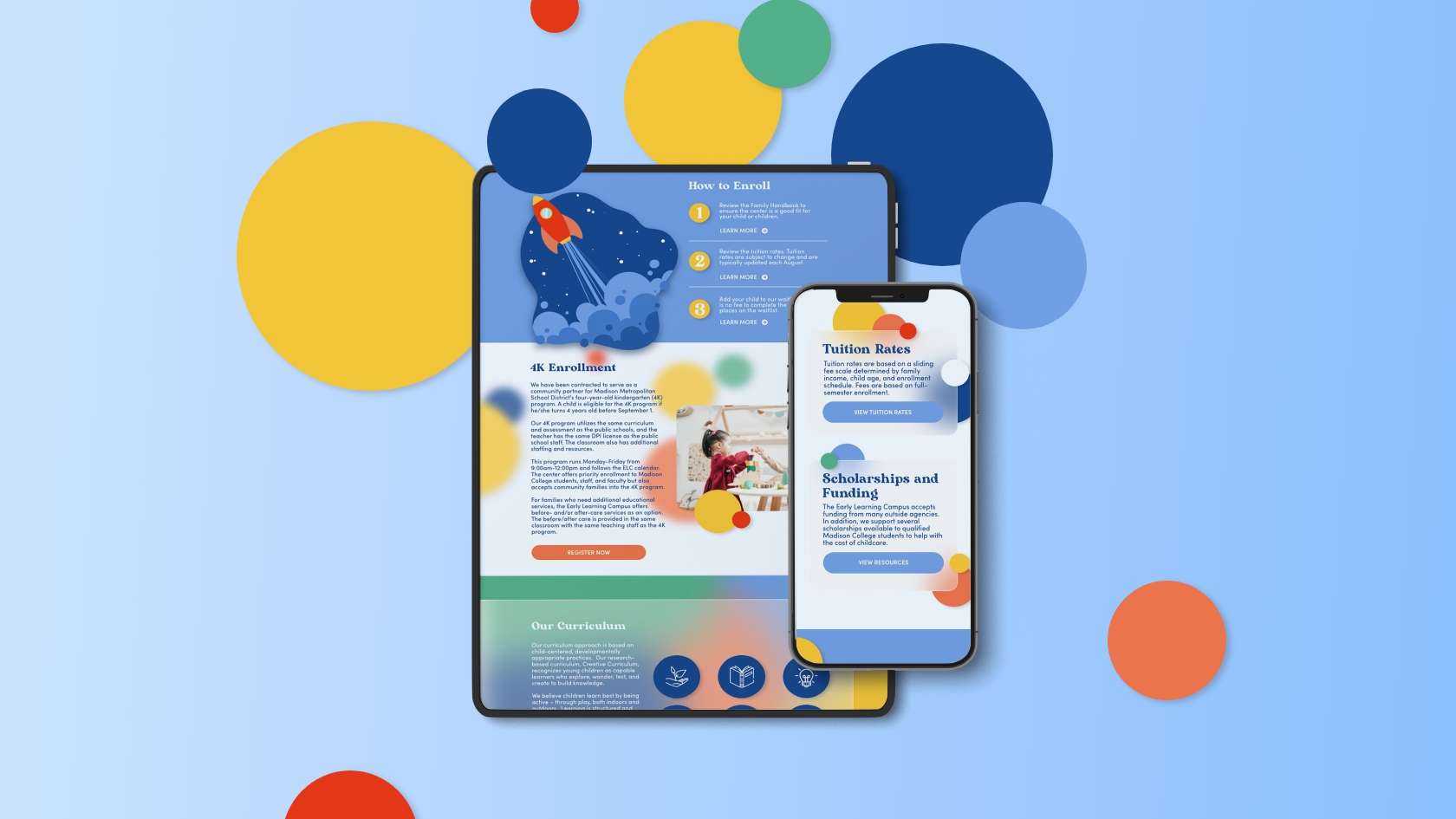 Early Learning Campus Web Design
Early Learning Campus is a child-care facility for early childcare and education in Madison College, Madison, WI. I decided to create a web design concept for their services after coming across a single page holding all their information on Madison College's website.
When designing the site, I wanted to keep the colors in a primary palette to exude a childlike sense. Colorful circles and hand-drawn illustrations create an imaginative style and brighten the overall design. This new look helps parents feel comfortable while navigating the site, assured that their child is getting the best foundation and experience possible for their children.
Skills:

Graphic Design, Concept Development, Website Design, Digital Design, Photo Manipulation, Illustration

Programs:

Procreate, Photoshop, Adobe XD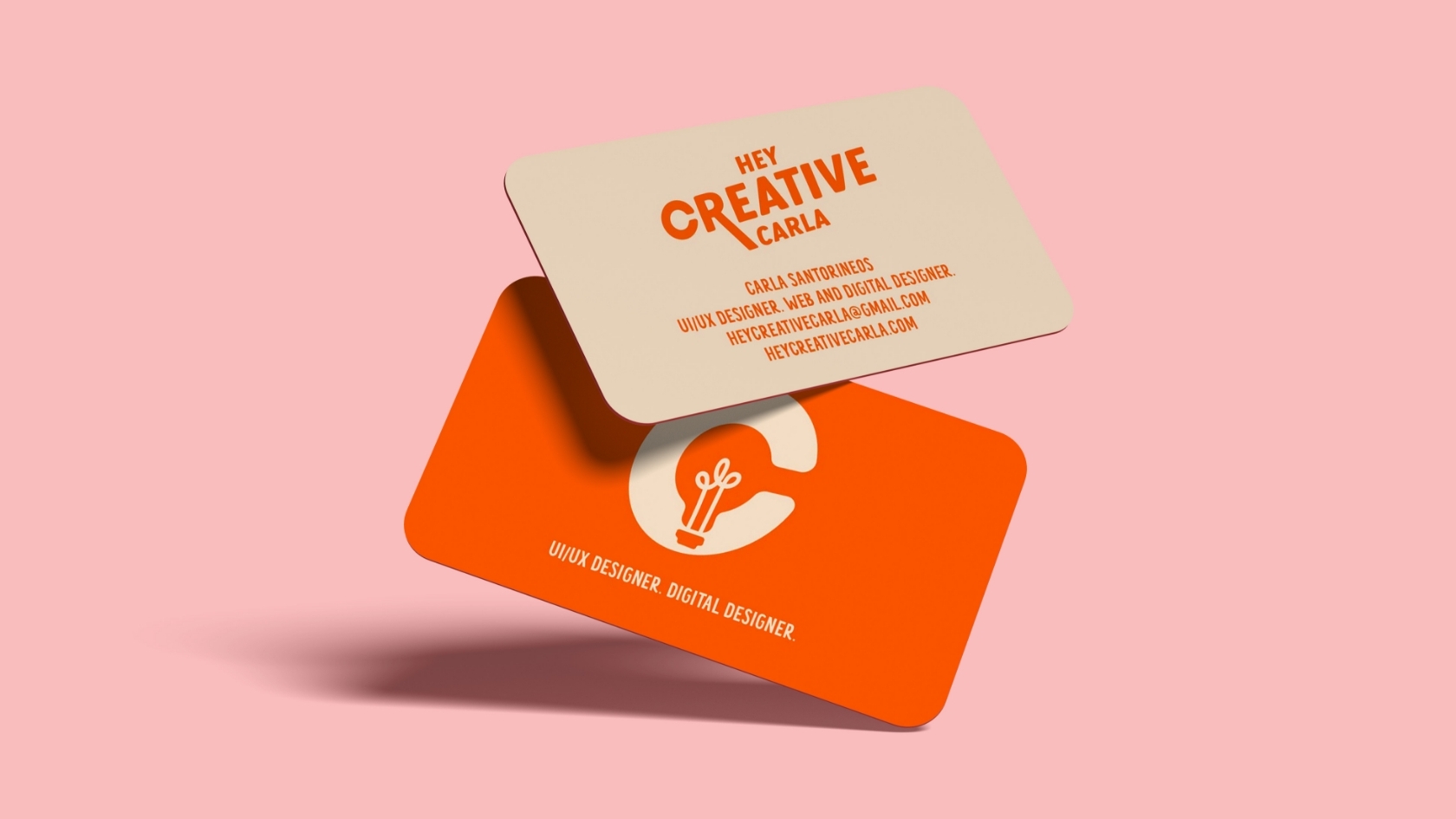 Hey Creative Carla - Brand Identity
Hey there! There's really not much behind my brand name other than that my name is Carla and I'm a creative. I wanted to create a brand for myself that truly encompassed my digital (and real life!) personality. Something colorful, fun, and imaginative.
The concept stemmed from using my first name as a foundation. Then sketch after sketch I designed some concepts that would work. (That's the thing about me, I have pages of sketches on paper before bringing the idea to my digital world.) After that, I tried a few digital concepts based on the sketches, I added a lightbulb into the "C" of "creative" to highlight my imaginative creativity, and went to work on the color palette. And my brand was finally born!
Skills:

Branding, Sketching, Website Design, Digital Design, Illustration

Programs:

Illustrator, XD
Skyscanner Explainer Video
Skyscanner was the perfect app to explore the creation of an explainer video. Made in Illustrator and completed in After Effects, I designed a motion video that would explain the process and benefits of booking through the app. It's as easy as 1, 2, 3!
Skills:

Explainer Video, Motion Graphics, Illustration

Programs:

Illustrator, Adobe After Effects
MANIFEST
We believe, we take action, we produce, we achieve.
As creatives, we manifest dreams into reality, no matter the medium. We take ideas to the next level, transforming them, bringing them to life, and revealing more than meets the eye. Our potential is limitless; our imagination and passion are manifest.
Archived Portfolios