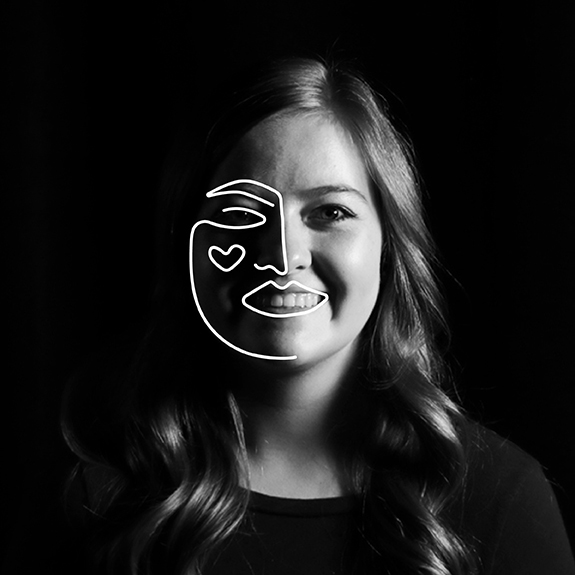 Sierra Lake
Graphic Design & Illustration
Web & Digital Media Design
A blinding creative passion blossoming from endless forms of childhood creativity and a plethora of Crayola products led me to pursue a career in graphic and digital design. Long-format text, UX/UI, and, heck, anything associated with making beautiful things makes me extremely giddy. I love that with designing I will always be continuously learning, whether that be about new techniques, skills, or varying topics I previously knew little about. If I'm not deeply immersed in a project, I love curling up with a good book, going for a run, or tickling the ol' ivories.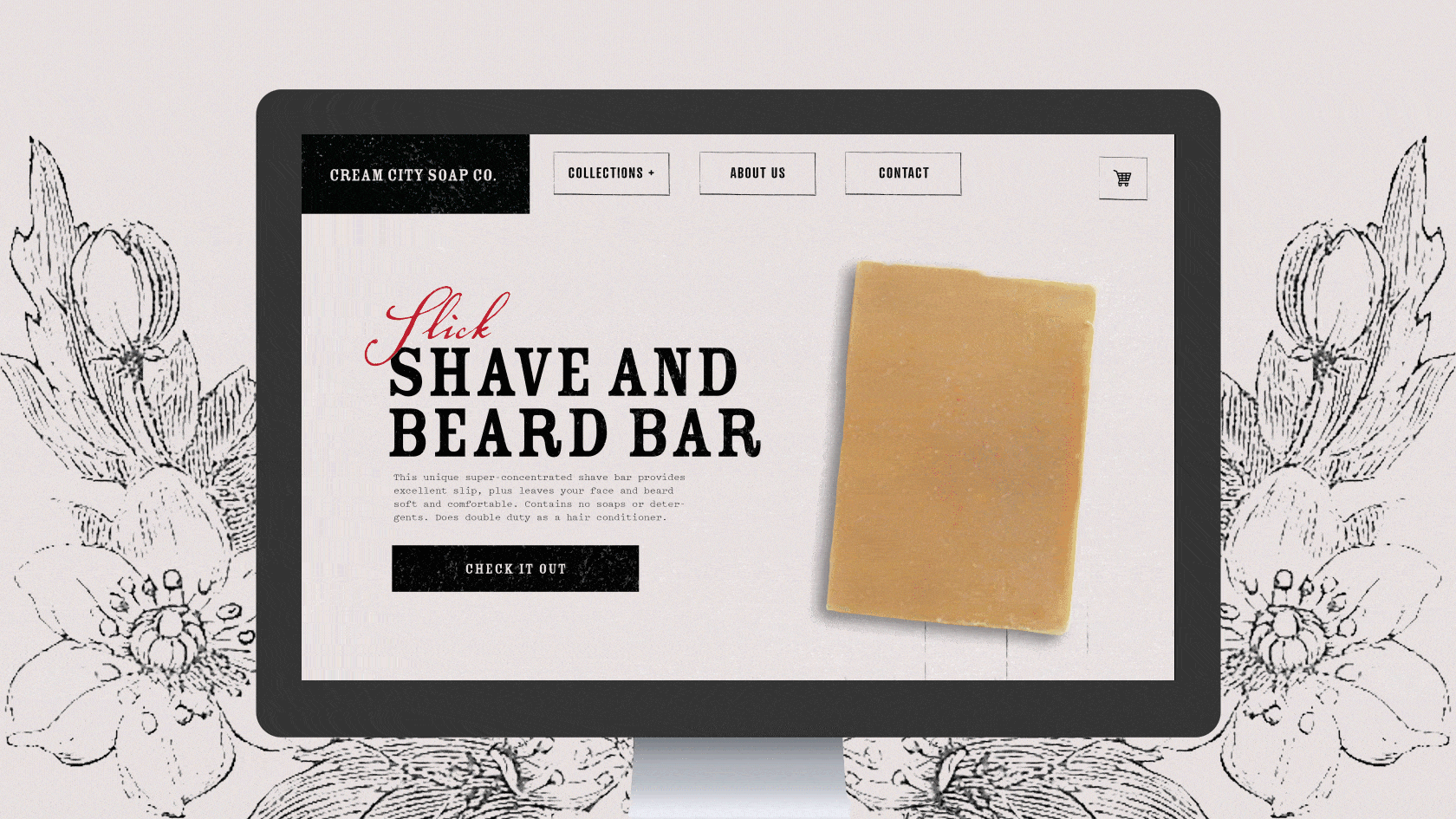 Cream City Soap Co.
Making small batches by hand, using the freshest raw materials, and keeping packaging environmentally friendly and reusable, this company is set on ensuring their customers with the best quality bath, body, and home products. I chose to update the look of their site to reconnect with their wholesome, handmade products and their healthy, sustainable, and biodegradable mindset. I saw an opportunity to give this brand a nudge toward a hand-crafted style that is elegant and in line with its use of natural ingredients and raw materials. Using a subdued color palette brings the colors of the soaps to the foreground, which is a nod toward the interesting way handmade soaps obtain their coloring through essential oils and plant extracts.
Skills:

layout, web design, typography

Programs:

Photoshop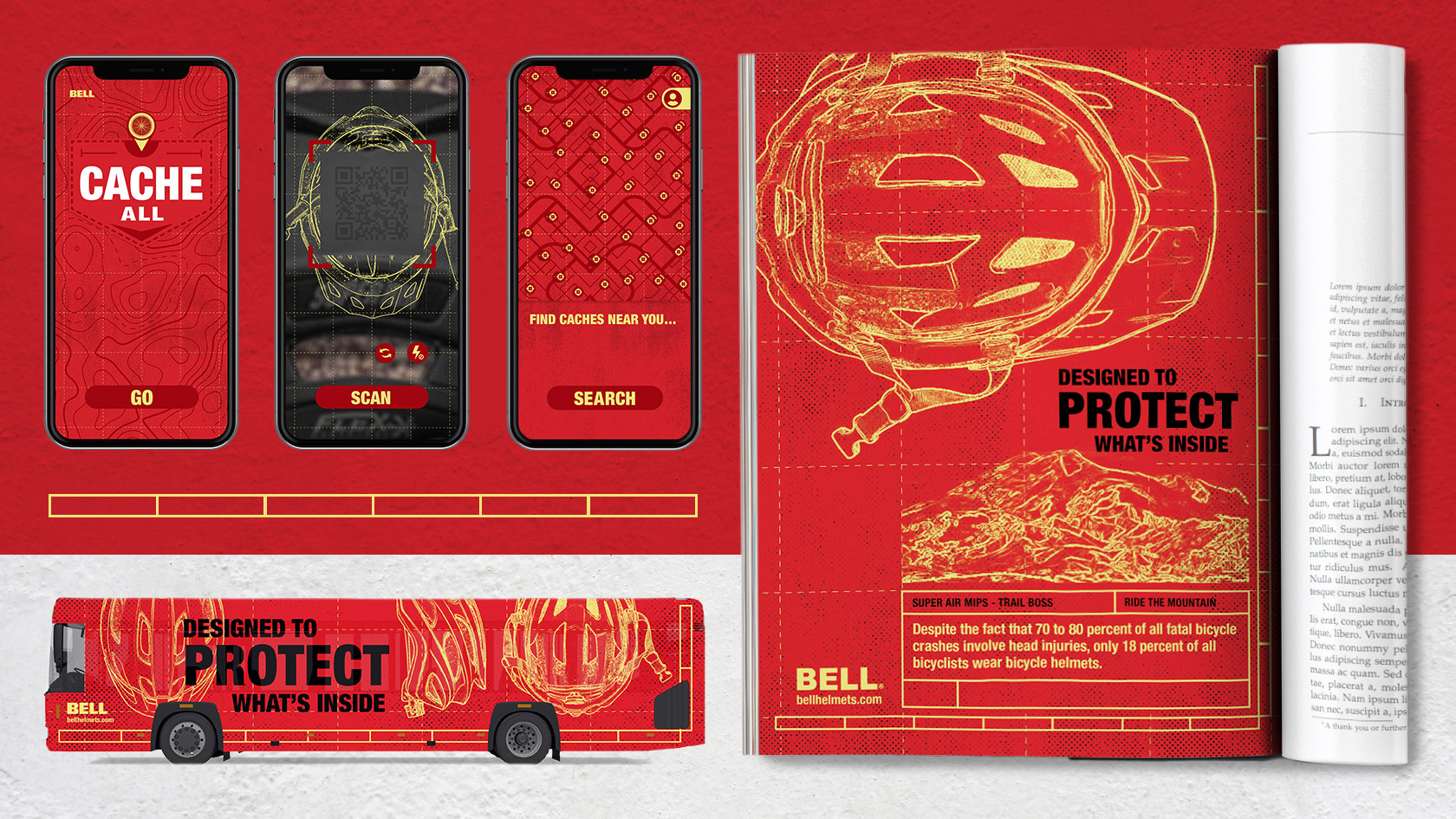 Bell Helmets
Arising from the California racing scene in the 1950s, Bell became the industry to meet the unmet needs of those with a speed-hungry mentality. The need-for-speed unveiled some grim realities and thus Bell Helmets was born. I developed an app concept from a kick-back to the days of geocaching, supported by an ad campaign, all with the sole purpose of promoting safe riding. Influences of the design came from blueprints with the idea that helmets are meticulously designed to protect riders from head injuries and from different types of maps since geocaching is a map-based activity. When the generations of boundary breakers to come protect what's on the inside, the possibilities are endless.
Skills:

concept, layout, UX/UI

Programs:

Photoshop, Adobe XD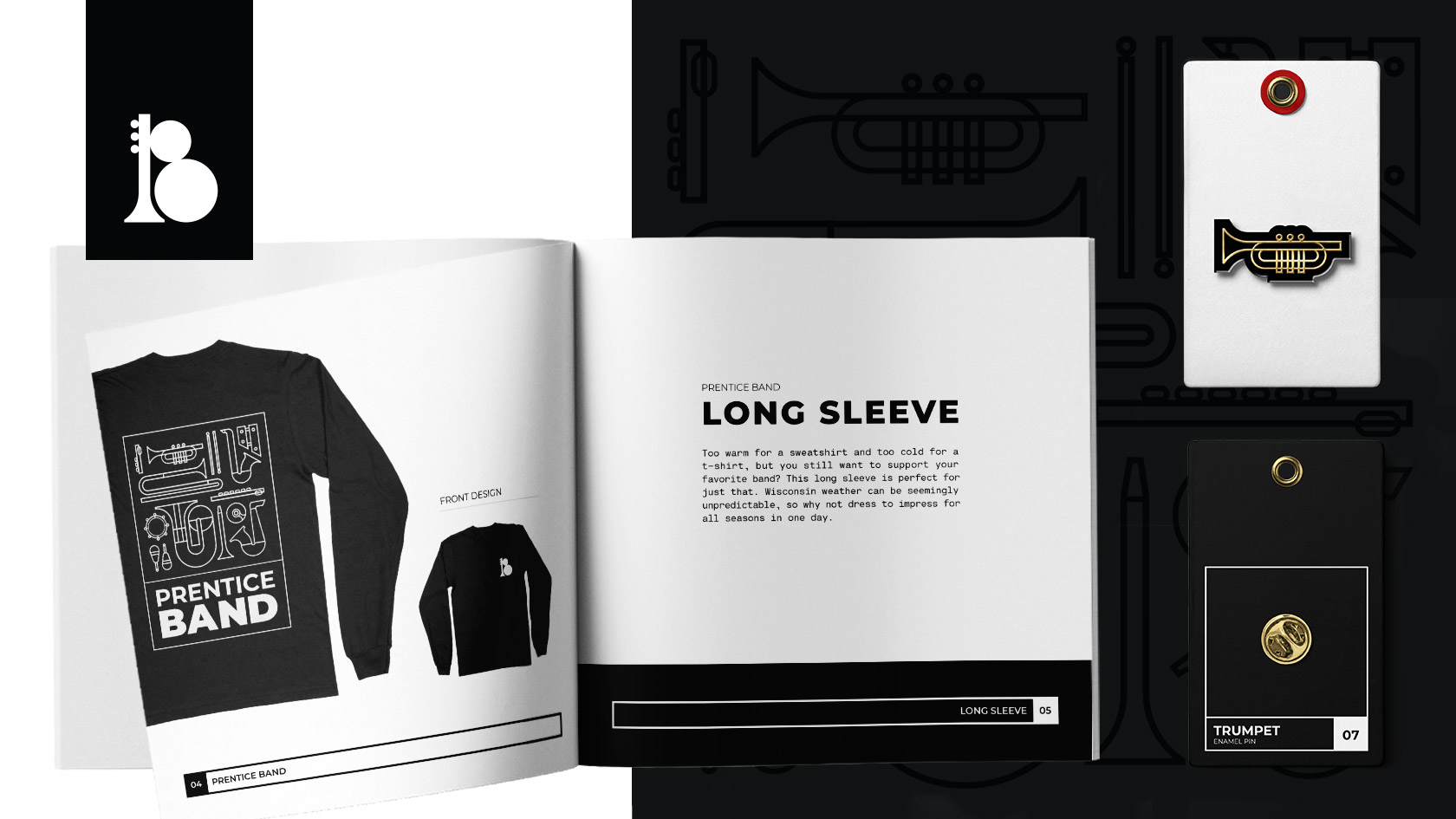 Prentice Band
As an alumnus of the Prentice Band, I was honored with the opportunity to create a new look for the band's apparel and give them a creative, timeless mark. Thinking of the many different instruments that blend together harmoniously, I thought a mark that symbolically represented different instruments and the letter "B" made for a visual with profound meaning to represent this group. A geometric style seemed fitting to simply represent complex instruments in an abstract manner.
Skills:

illustration, logo design, layout

Programs:

Illustrator, Indesign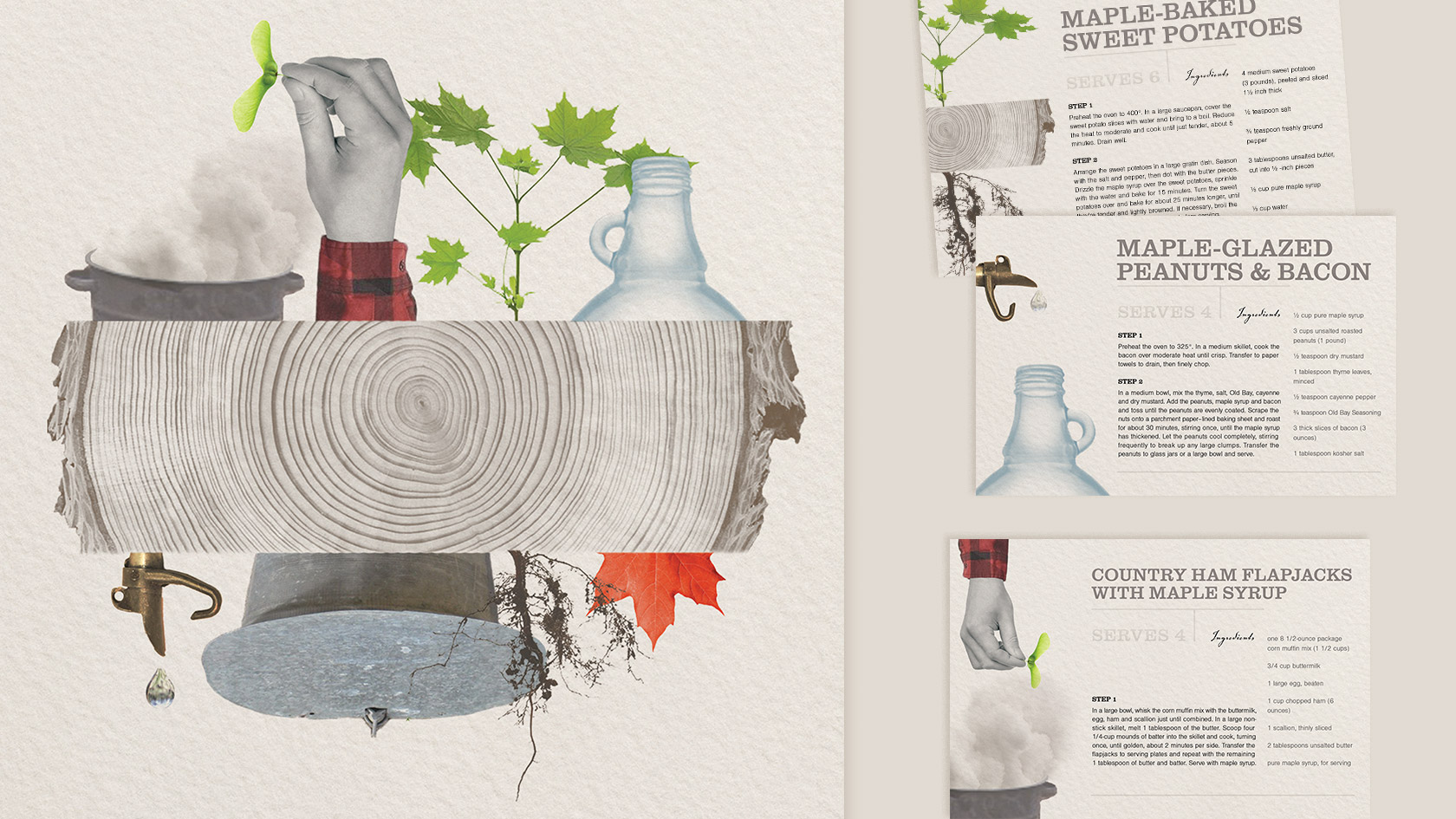 Maple Syrup Fest
This small-town festival, held in Phelps, Wisconsin, is a day-long celebration of the sweet, sticky, homemade goodness that is pure maple syrup. I decided for this promotion to concentrate on creating a visual capturing the intricate and beautiful process of making maple syrup. The idea of a collage was to showcase a piece of each part of the process, start to finish, in a way that shows the sophistication of this craft.
Skills:

layout, typography

Programs:

Photoshop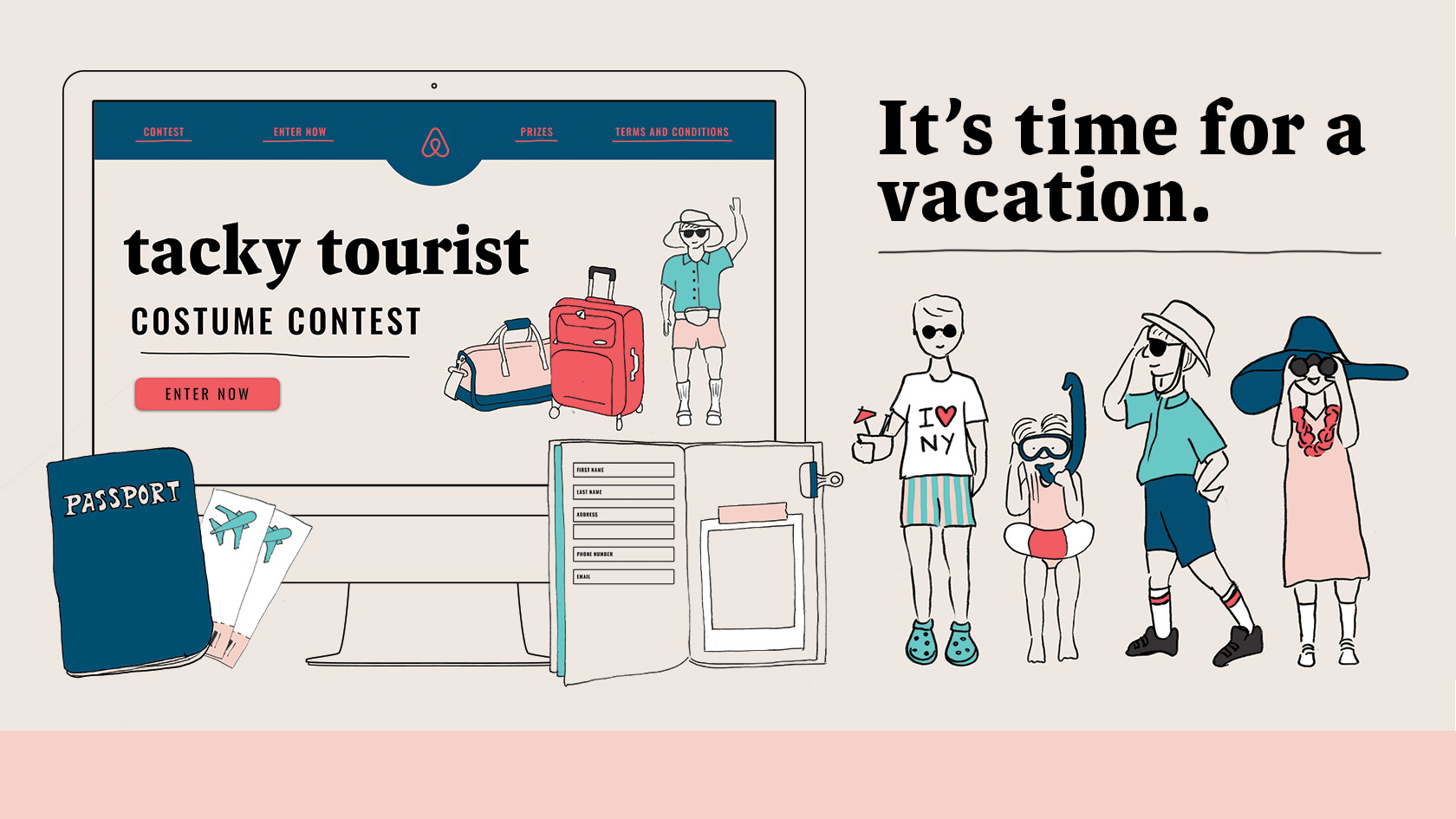 Tacky Tourist
The founders of Airbnb believe that everywhere is a place one can belong and are constantly working on improving the inclusivity of their services. I developed the concept of an interactive contest encouraging people to get into the mind of relaxing, unwinding, and having fun, which is what all vacations should be about. The idea of a costume contest featuring everyone's best impression of a tacky tourist is in hopes of putting a smile on people's faces and giving them a good laugh. I chose to veer away from using photography as seen on their site and instead conjure up some cheeky illustrations to show off the possibility of a more casual side to this company.
Skills:

concept, illustration, web design, layout

Programs:

Photoshop, After Effects

---