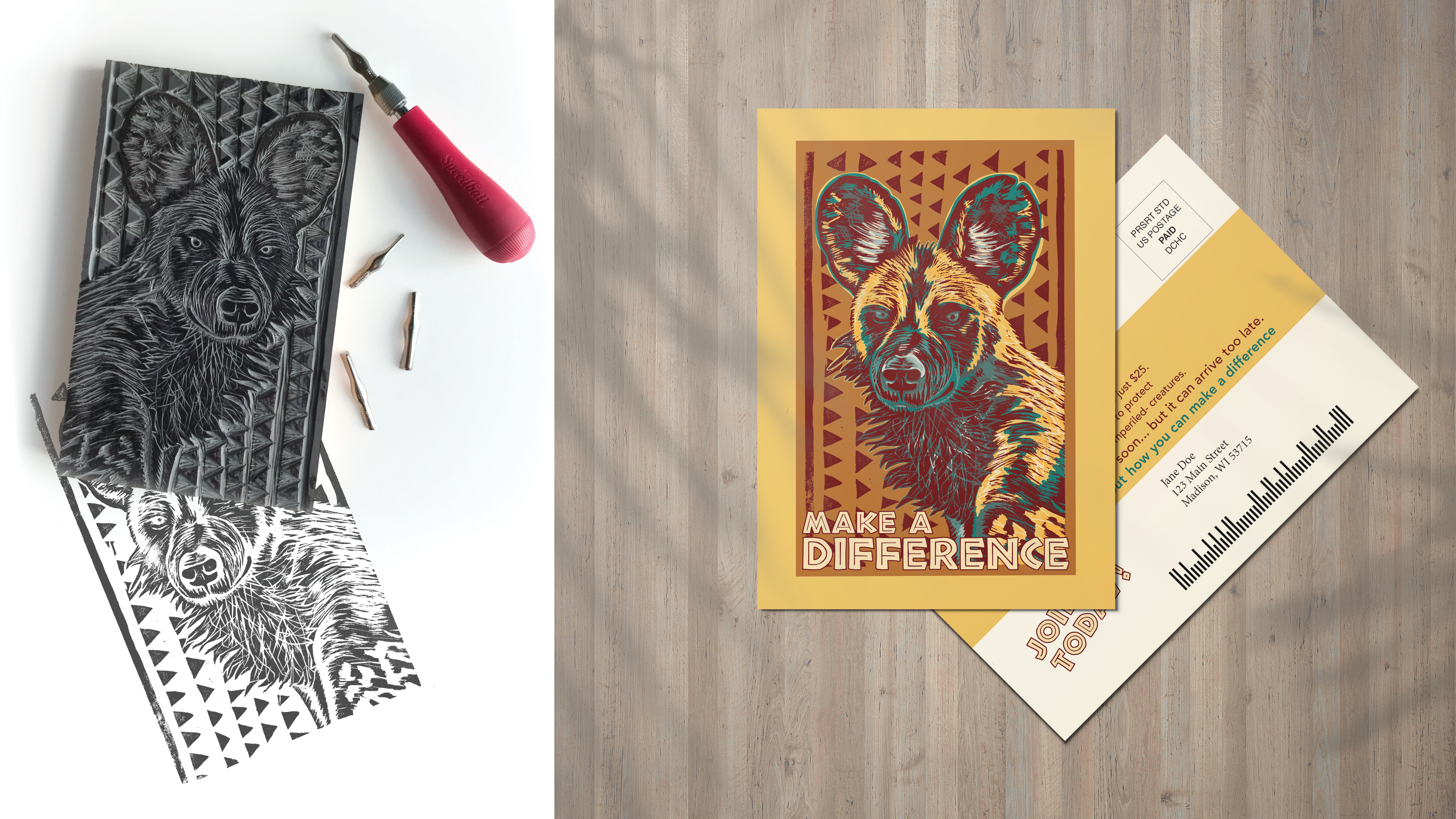 African Wildlife Mailer
The illustration is made from a linoleum block cut where a print was pulled and colorized digitally. The imagery which depicts an endangered African wild dog was utilized as an eye-catching campaign to support the African Wildlife Foundation. They work to protect Africa's most threatened species, so I worked to create a piece that would gain attention and support for the foundation by standing out through color and imagery.
Skills:

Concept, Design, Illustration, Linocut, Typography

Programs:

Adobe Illustrator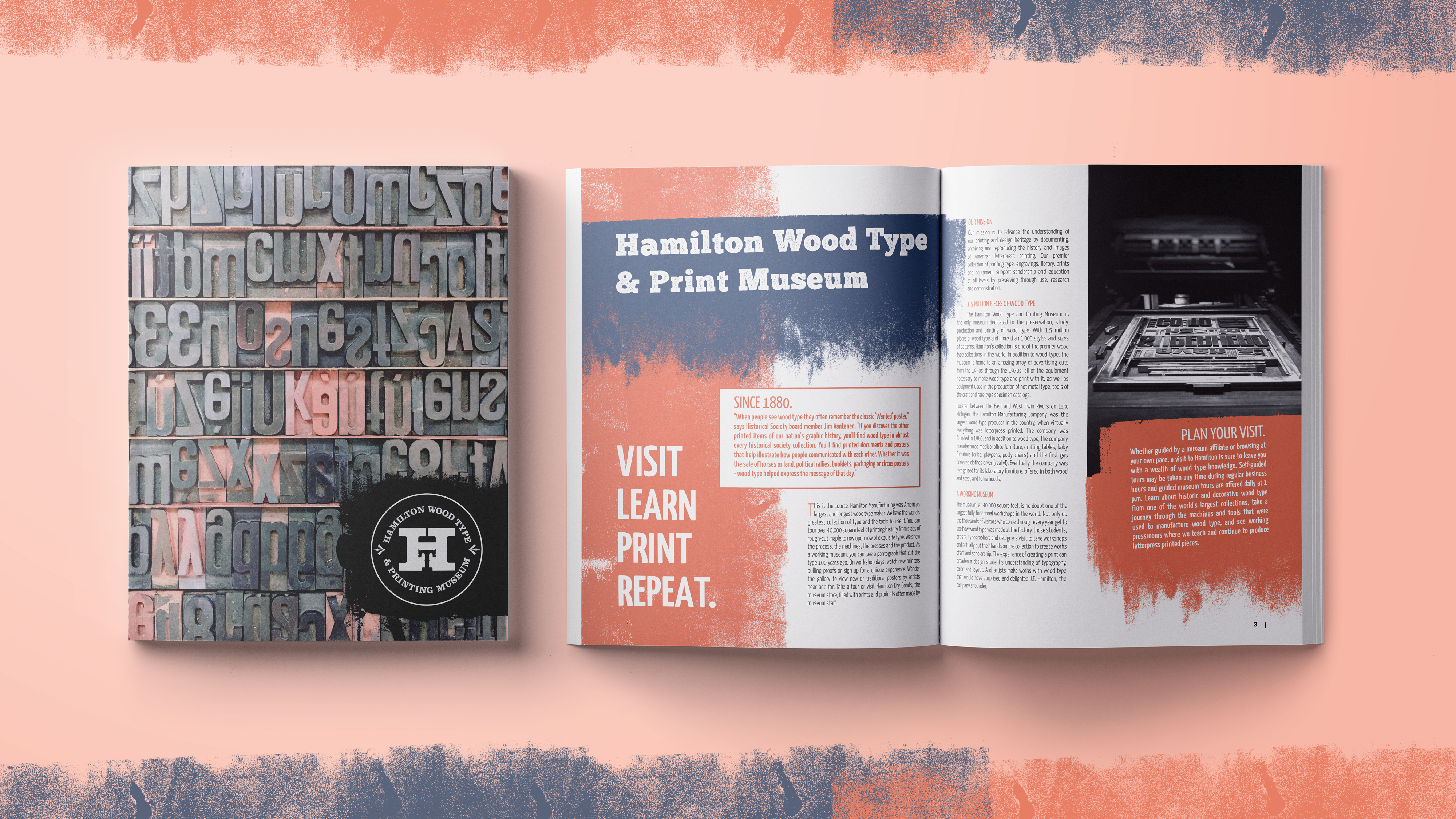 Hamilton Informational Booklet
The Hamilton Wood Type & Printing Museum located in Two Rivers, Wisconsin houses over 40,000 square feet of printing history. Back when they were known as the Hamilton Manufacturing Company it was the largest wood type producer in the country. The goal was to create a visually engaging booklet using type, texture and image treatment that highlights the history of the museum.
Skills:

Design, Typography, Long-Form Content Layout, Image Treatment

Programs:

Adobe InDesign & Photoshop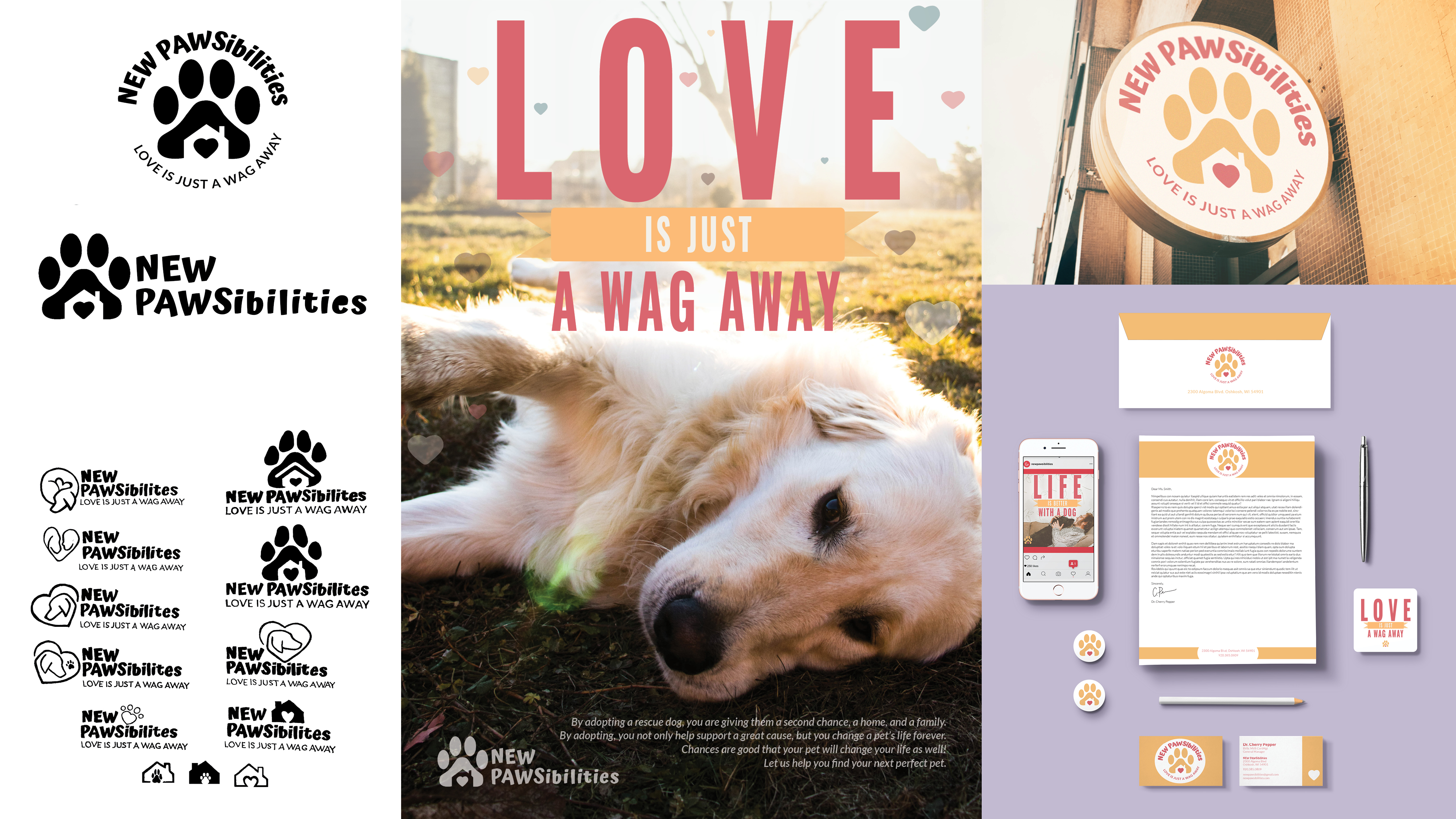 New Pawsibilities Rebrand
New Pawsibilities is a no-kill shelter serving families in Northern Wisconsin. Their mission is to create a world where every dog can be surrounded by love. My mission was to deliver a strong and timeless logo along with a positive brand identity that reflected their caring nature through warmth.
Skills:

Logo Design, Branding, Layout

Programs:

Adobe Illustrator, InDesign & Photoshop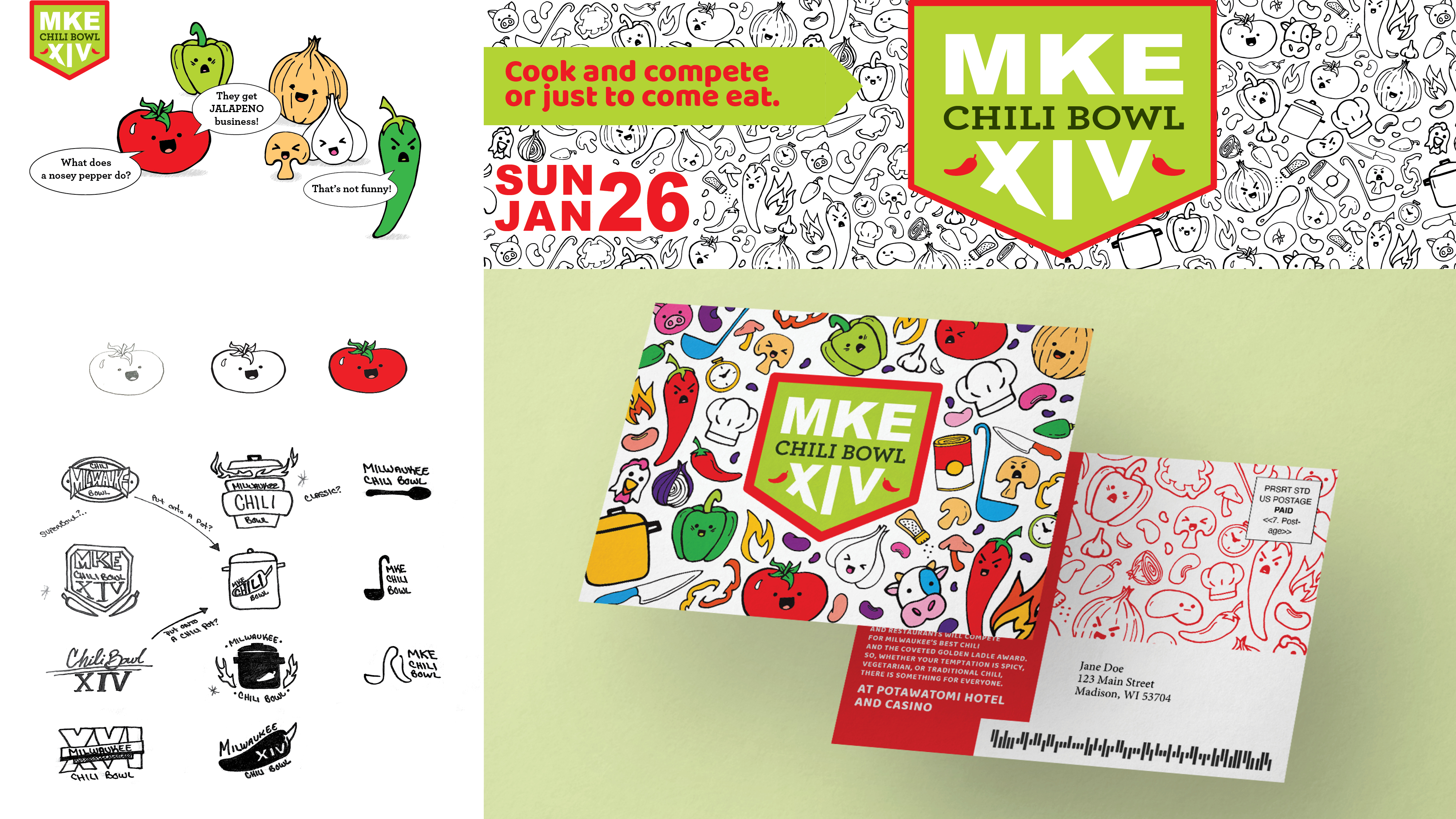 Chili Bowl Event Branding
The Milwaukee Chili Bowl is a tasty annual event where top restaurants and chefs come to compete. For Milwaukee's 14th annual Chili Bowl the goal was to create a bold and exiting brand identity with an emphasis on fun. To help accomplish this a bright color palette was chosen and playful illustrations were made. For the logo, inspiration was pulled from Super Bowl logos in order to play up the Chili Bowl name and the spirt of the competition. After being the designer and illustrator of the logo, illustrations, and postcard I then stepped into the role of art director where I directed Faith Ginn, who acted as the designer and production artist, on the billboard, web ad and Instagram square.
Skills:

Concept, Logo Design, Illustration, Event Branding, Typography, Art Direction

Programs:

Adobe Illustrator, InDesign & Photoshop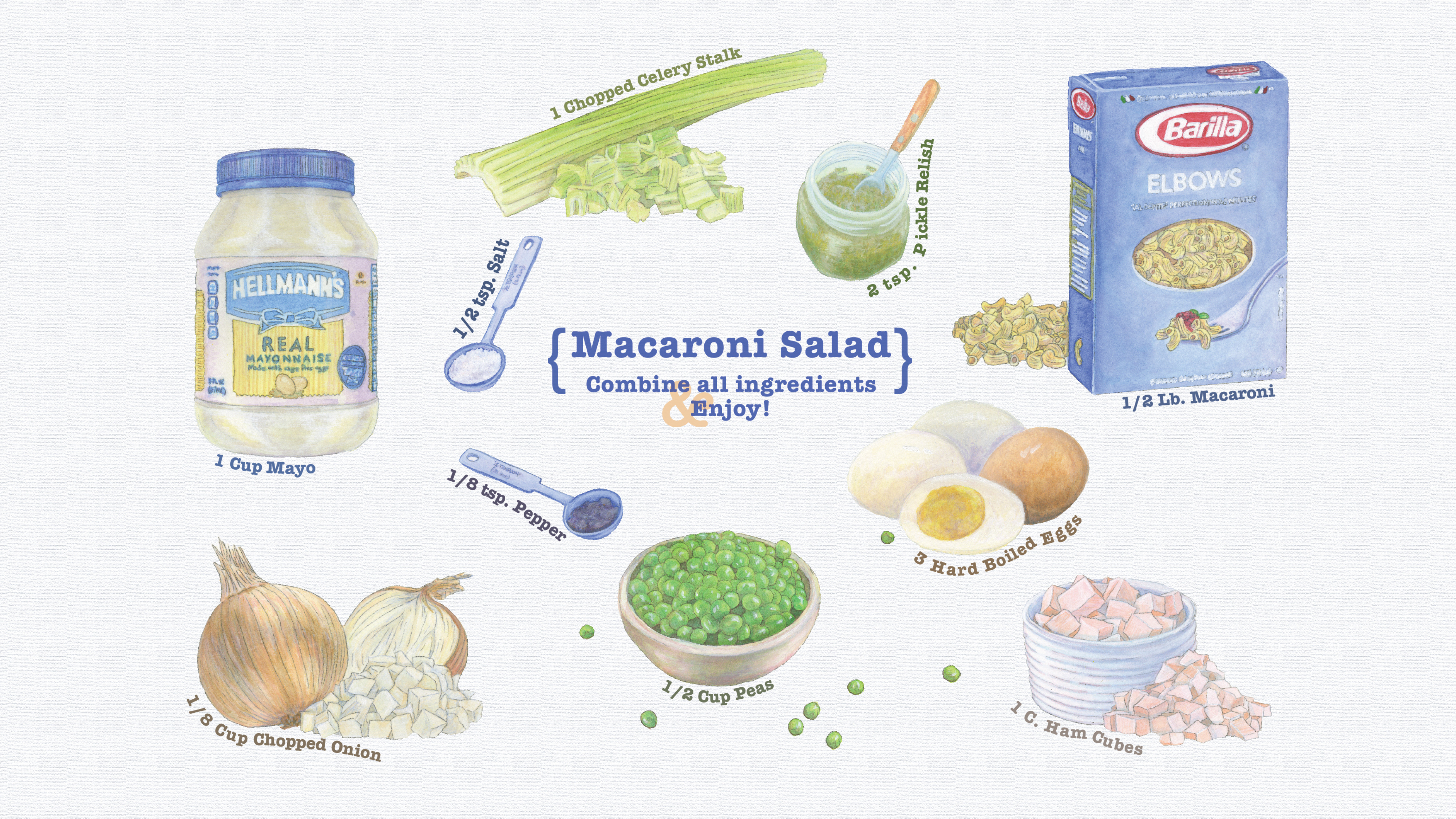 Mom's Macaroni Salad
What's almost as good as mom's macaroni salad? Maybe an illustrated recipe of it. For this piece multiple illustrations were made and painted using acrylic paint. The finished paintings were then scanned into the computer where they were arranged together and paired with typography.
Skills:

Illustration & Typography

Programs:

Adobe Illustrator & Photoshop

---