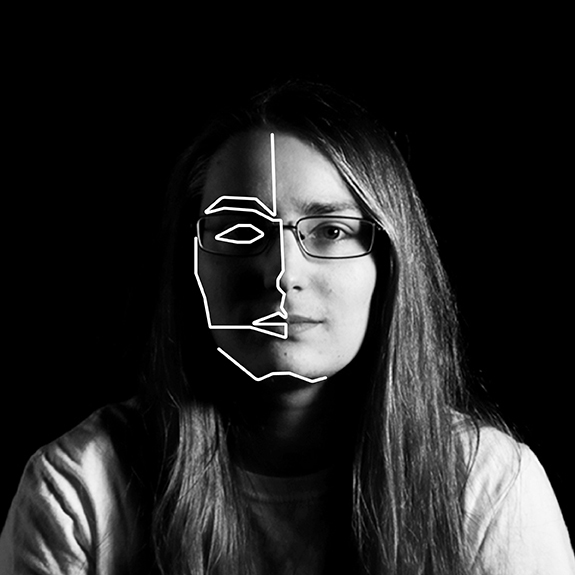 Katie Betthauser
Visual Communications
Ever since childhood, I've had a fascination with and passion for filmmaking. From being mesmerized by a movie trailer I saw on TV when I was three to videos I shoot and edit to this very day. I also have a passion and love for storytelling, and you can often find me creating stories in my free time.
The Terror Title Sequence
Concept: A revamp to an already existing title sequence to an already existing show that is based on one of my favorite books. The original plan was to do a book trailer to The Terror but quickly changed gears when I found out that a show exists based on the book. I wanted to get the main idea of the show and fuse it with the real life history behind the story. I also splashed in some very subtle secrets within certain parts revolving around some of the people in the video.
Skills:

Editing, Typography, Motion Design

Programs:

Premiere Pro, After Effects
Glass Shard Productions Logo
Concept: A logo of a fictional production company to showcase another side of motion design. I camp up with the idea of Glass Shard Productions and wanted a logo to go along with it. In keeping with the idea, I created a glass looking shard with text that bares a resemblance to broken glass and had them fly into the frame as well as bounce in on impact. I then thought it would be rather amusing to add a little surprise that still fit within the premise at the end for the viewers.
Skills:

Editing, Typography, Motion Design

Programs:

After Effects
Formosus Needs a New Body
Concept: A comedic short that combines history and video. When assigned with a project that needed to include some degree of compositing within it, I went for a more different approach. I came up with the idea of a short about the historical figure of Pope Formosus wanting a new body as he is a disembodied skeletal head. Things don't really go according to plan for poor old Formosus.
Skills:

Editing, Compositing

Programs:

Premiere Pro, After Effects
When You Spend a Decade Studying a Single Subject...
Concept: A short centered around the knowledge that I have cumulated over the past ten years on a single subject. I came up with the idea after I stumbled across a few books that have chapters on the subject that I know so well. I was shocked and horrified when I found out that they were all filled with false/made up information. The video is just a snapshot of a longer more in-depth video about my reactions to these books.
Skills:

Editing

Programs:

Premiere Pro

---