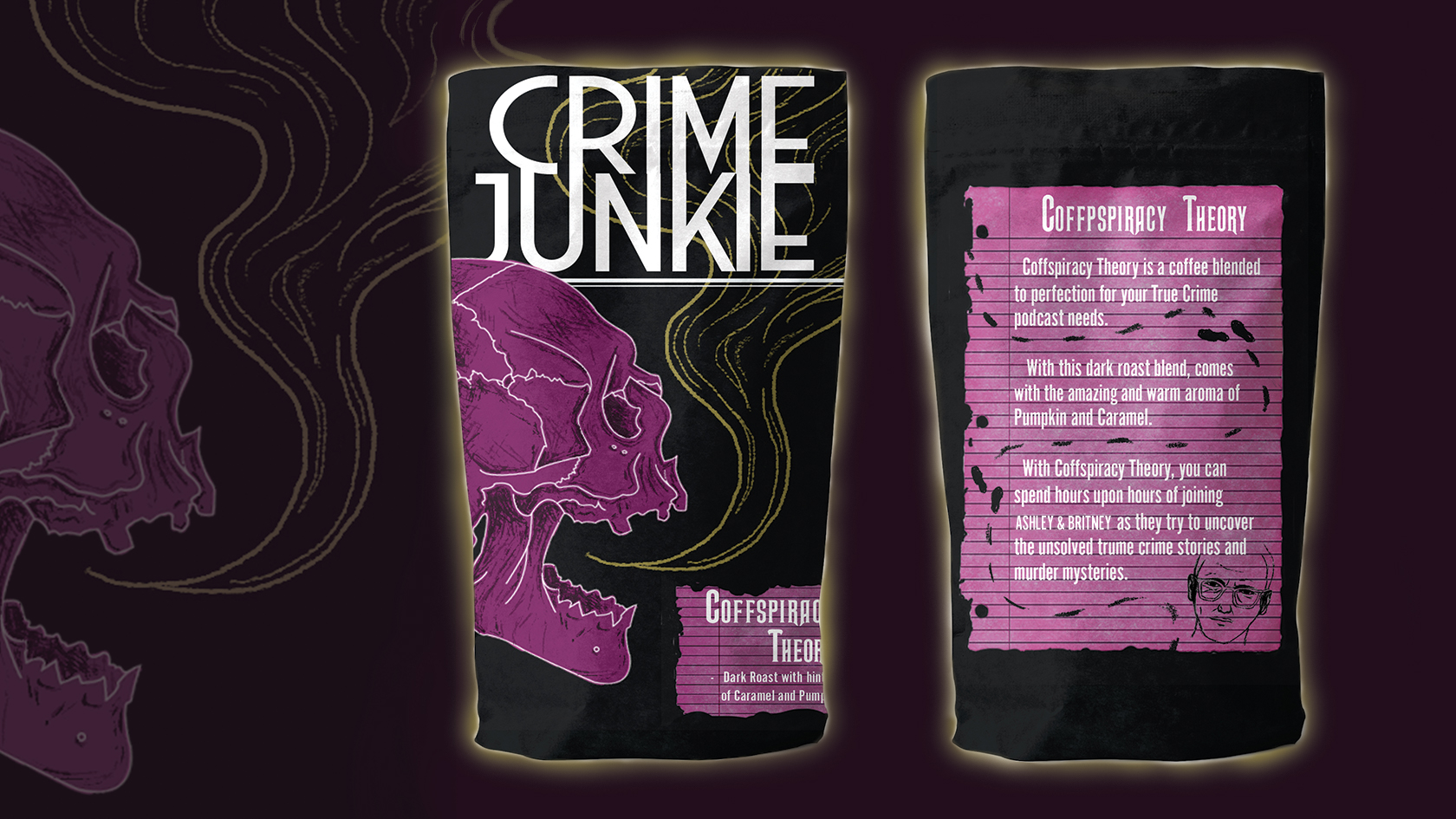 Crime Junkie Coffee
Who doesn't love a good cup of coffee in the morning? Especially when listening to True Crime podcasts! Inspired by my favorite podcast "Crime Junkie", I based a coffee flavor/ brand around the Crime Junkie podcast and what I thought would fit perfectly with the atmosphere of their podcast. In this project I wanted to showcase my style which can be dark, gritty, and a little bit edgy. But also have it being something different, especially with the illustrations of the skull and smoke. The smoke was heavily inspired by the Sherlock Holmes graphic novels, which was a fun way to learn how to draw smoke in a different style. As a coffee fanatic, this was lots of fun to do!
Skills:

Illustration, & Typography

Programs:

Photoshop & Illustrator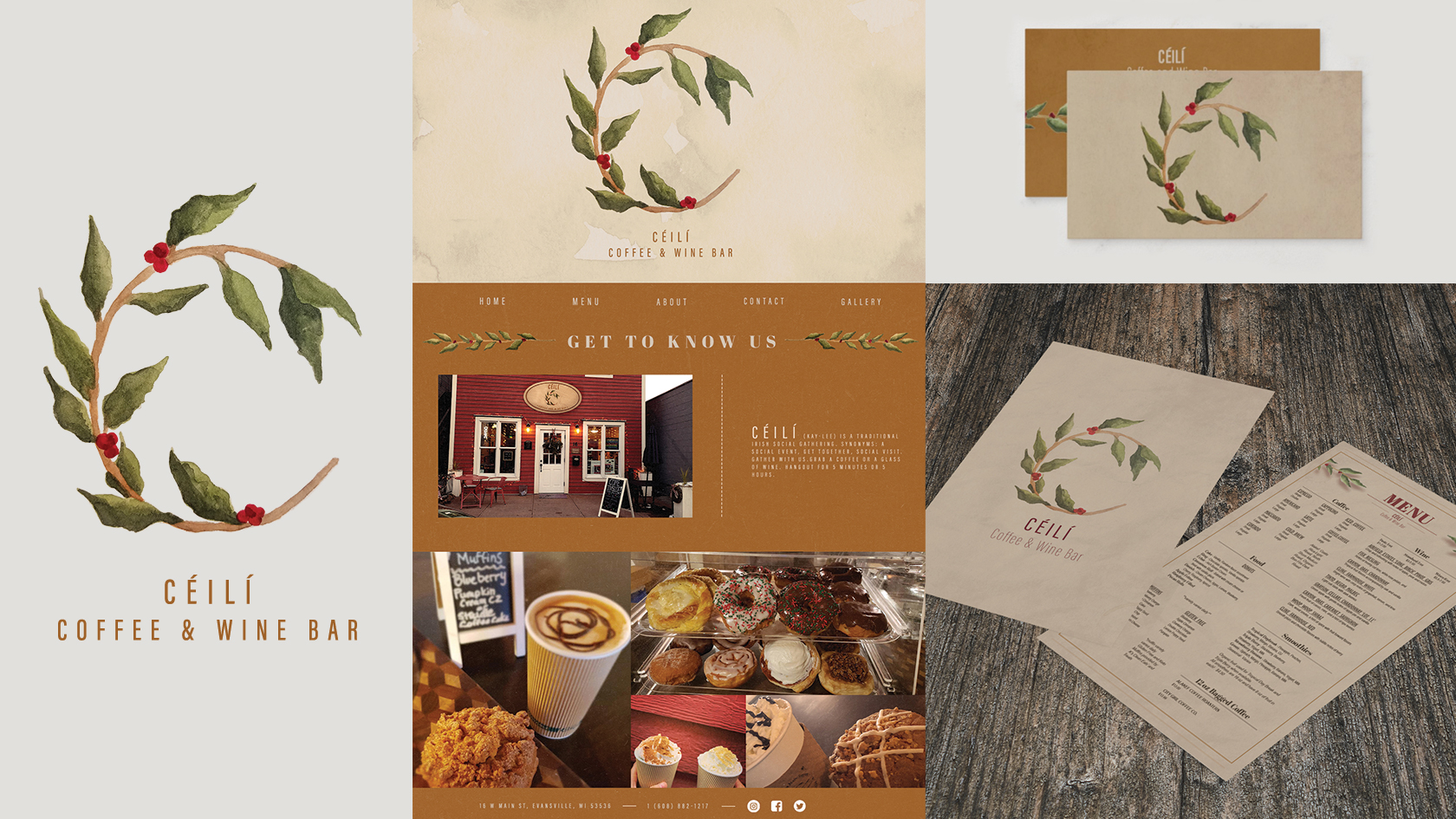 Céilí Coffee & Wine Bar Rebranding
Céilí, a traditional Irish social gathering, get together. Coming together to share warm and happy moments with friends and family." Céilí Coffee and Wine Bar is a local business in my hometown, and I thought that this place was the perfect opportunity to do a rebranding of this quaint and cute little coffee shop. In this project I did the logo by hand and made it using watercolors and ink wash to create the logo of a coffee plant and thought it would accent well with the red exterior of the coffee shop. With this project I got to make a mockup of a website for them, business card, menu, and attire!
Skills:

Illustration, Ink wash, Watercolor, Logo Creation, Menu Work

Programs:

Photoshop, InDesign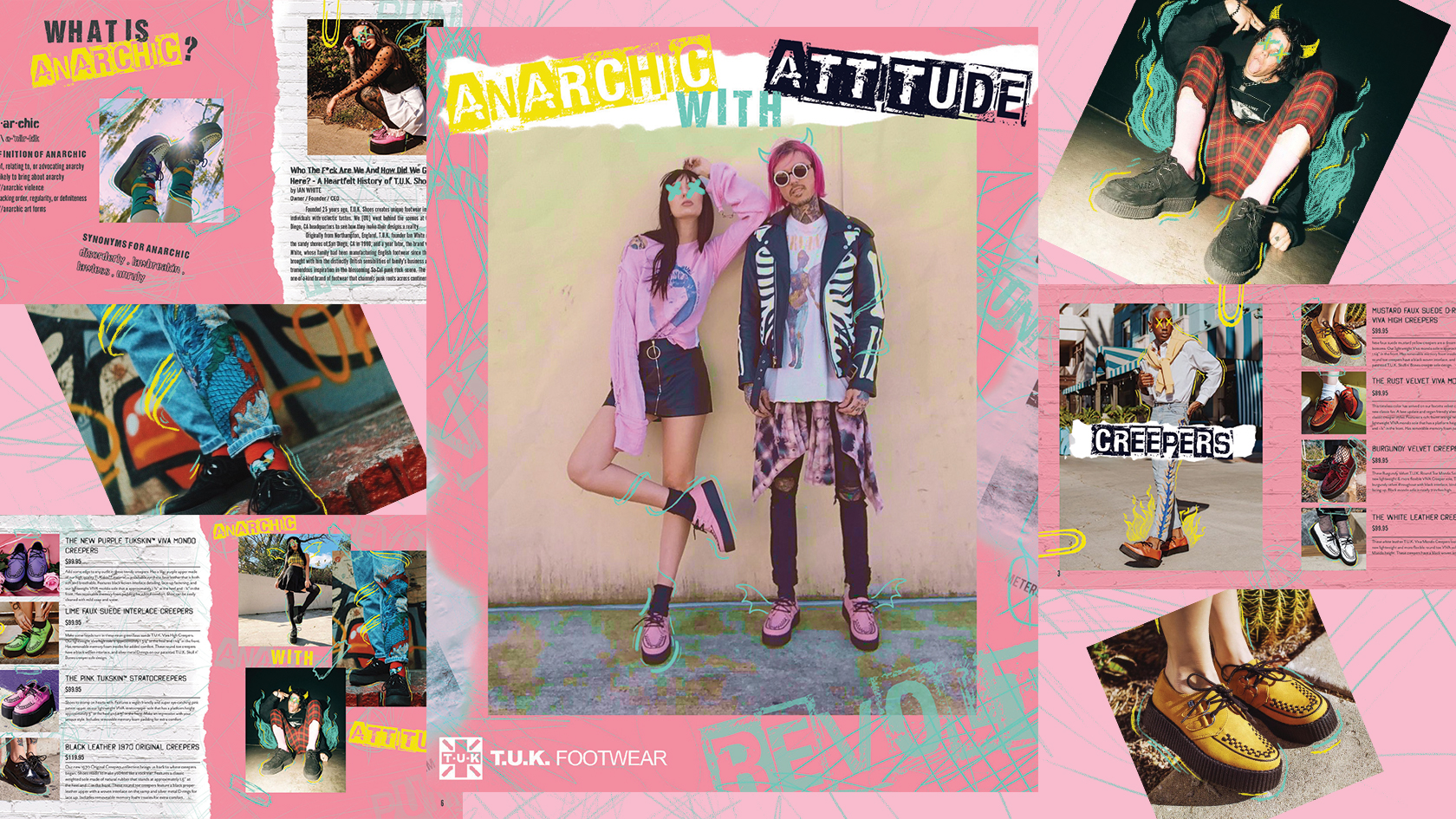 T.U.K Shoes Brochure
A shoe company catered towards Punk and Gothic and Expressive fashion, this brochure is made for anyone to feel confident and comfortable to express themselves. Especially with some killer platforms called Creepers. I did this brochure with the mindset of trying to create and showcase that T.U.K shoes can be used for any style at all that anyone has. I was also able to do a lot of research about the punk movement and how Jamie Reid, Sex Pistols, and Anti-war changed fashion and design as a whole. This project was so much fun to work on with being able to incorporate the edgy and punk style with modern photos to give off that feel to the company.
Skills:

Illustration, Typography, Photo Treatments,

Programs:

Photoshop, InDesign
HANNIBAL - Title Sequence
This piece is heavily inspired by the show Hannibal, where I was able to explore the capabilities of After Effects and all of the fascinating things you can do with it as well. This project is one of my proudest moments, since I was not familiar with After Effects, and then made something with this. I wanted to have the title sequence feel as polar opposite as possible to the existing title sequence from Hannibal, and also give it a darker, mysterious, and eerie feel to it. While also giving hints and foreshadowing in the show throughout the sequence. From this project I really fell in love with motion design and how much fun it can truly be!