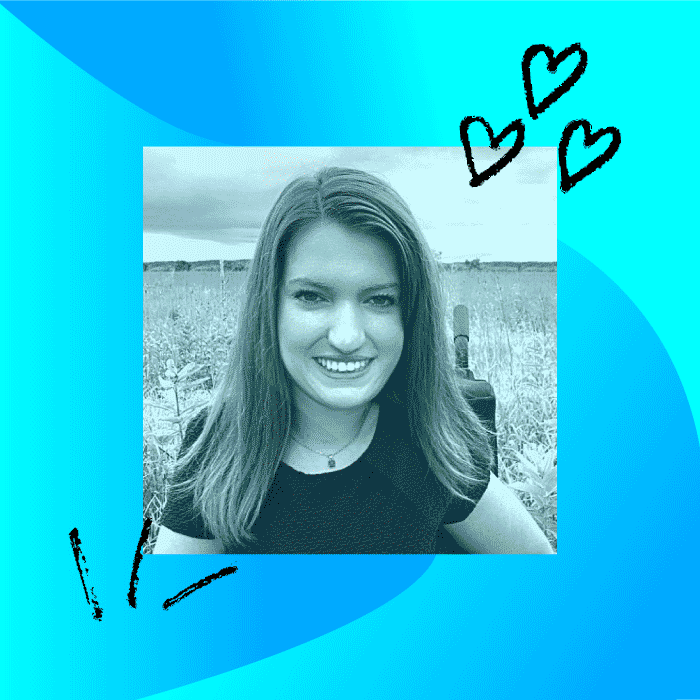 Annie Heathcote
Graphic Design & Illustration | Web & Digital Media Design
Hi, thanks for stopping by! My name is Annie Heathcote, and I am a UX/UI, Web, and Graphic Designer. I love using my skill set to open up a world of creativity for people and businesses! I believe that great design is essential for every business, so they can effectively communicate their mission to their audience. Meeting the needs of my clients, by problem-solving to overcome challenges, is how I roll. I'm looking to further my experience on a collaborative design team where I can continue to grow my skills and make an impact. When I'm not designing, you can find me spending time with family and friends, singing at church, making art, playing power soccer, and traveling.
Lambeau Lamborghini
Green Bay Packer Fans will now want to Lambeau Leap for a Lamborghini during this collaboration contest! Packer fans can win this grand prize of a Lamborghini by submitting their most crazy outfits supporting their team. Just like how I combined the logo of the Green Bay Packers with the Lamborghini logo, these two very popular brands will now be able to share and unite their brands by creating something interactive and exciting. Both of these brands have a sporty vibe, so I kept that theme throughout this project by including modern type, metal textures, and a bold color scheme of black, white, yellow, and green. After making the landing page, I catered to their whole audience by doing a social post animation on Instagram and an email campaign on Mailchimp. Overall, Packer fans would be ecstatic to show their team spirit and enter this once-in-a-lifetime contest!
Skills: Brand Campaign Contest, Website Design, Logo Design, Advertising, Email Campaign, Social Media, Motion Design, Concepting, Mood Boards, Idea Statement, Storyboard, Typography, Creative Writing, Collage, Photo Treatment, Layout, Mockups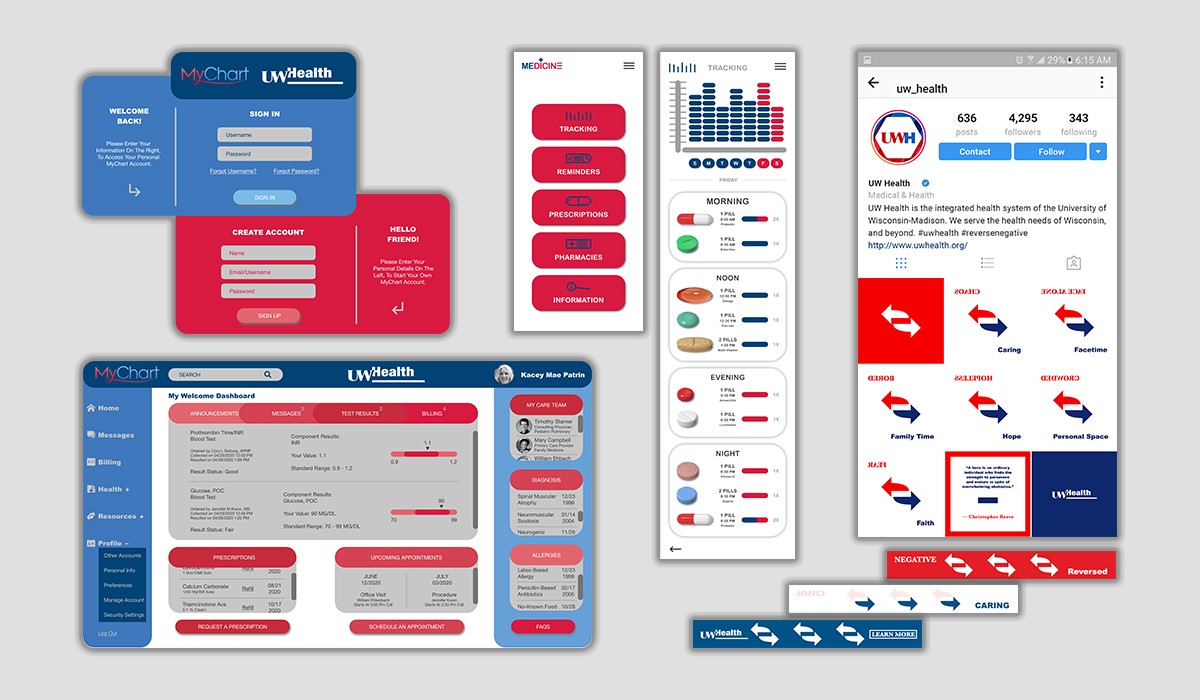 UW Health Systems
Wisconsin is home to the UW Health system that cares for its patients and community. I wanted to help them further their mission by innovating their current systems like MyChart and creating new ones like a Medicine App, Reverse Negative social posts and banner ads. During the Covid-19, I concentrated my efforts on creating nine Instagram posts that illustrate different ways people can live, by reversing their negative perspective of what they can no longer do safely, to what they can do instead. I then animated multiple banner ads. Thinking about this full circle, I created an app prototype called Medicine that helps people maintain their health. I then took on redesigning MyChart because as a user, I knew there were some UX/UI challenges that could be solved with a better design. With these new and improved systems in place, UW Health fulfills its mission by having a higher level of integrity and excellence to show compassion to their diverse patient community.
Skills:

Social Media, Banner Ads, App Design, Saas Redesign, Website Design, Redesign, Advertising, Concepting, Mood Boards, Idea Statement, Interface Inventory, Storyboard, Typography, Creative Writing, Photo Treatment, Iconography, Layout, Sketching, Wireframing, UI Style Guide, Prototyping, User Testing, Mockups, Presentation Deck

Programs:

Adobe XD, Illustrator, Photoshop, Adobe Animate, InDesign, After Effects, Slack, Instagram, Vimeo
Party With a Purpose
This design is not only a visual party in itself, with its bright gradient colors, treated images, handwriting, and fun hand-drawn doodles, it's a total style 180! Lifest's Summer Christian concert series has a millennial and Gen. Z audience that I considered during my creative writing and design process, by using their vibe and language to relate the brand's content to their overall message and event. I kept some elements grayscale to make the vibrant colors pop and create visual hierarchy, making it feel cool yet inviting to attract a large audience. After seeing this design, I bet you are ready to party with a purpose!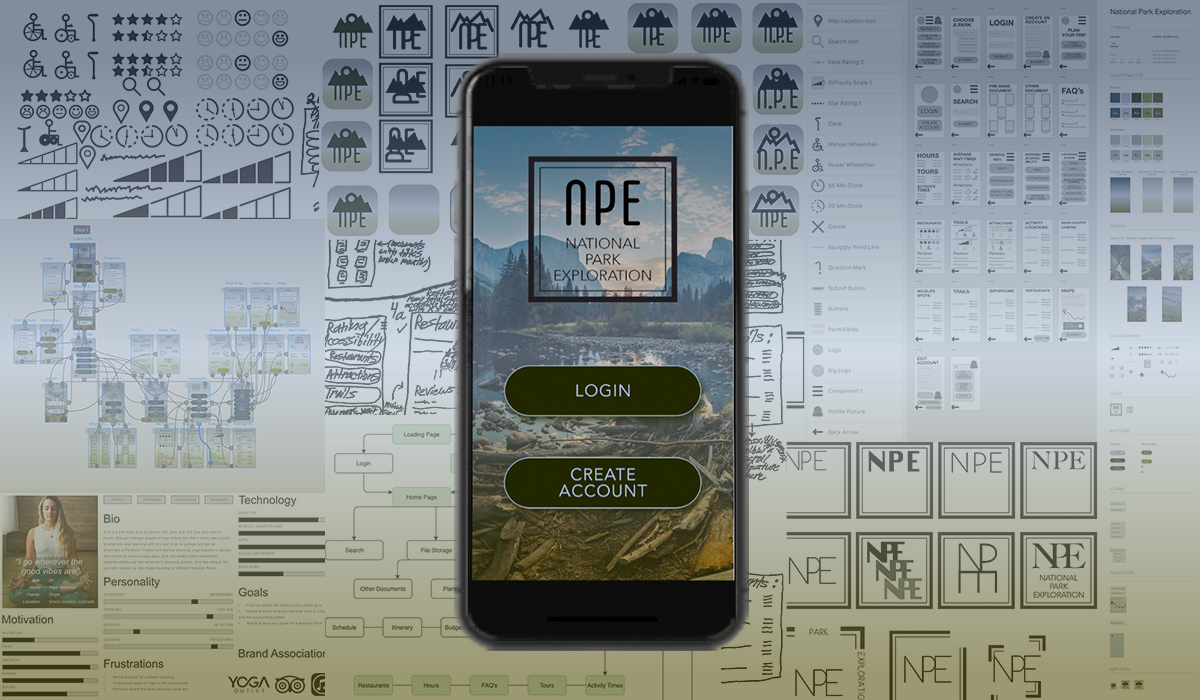 National Park Exploration
This National Park Exploration app was born out of the necessity to be the only app to seriously consider and incorporate accessibility into everything National Parks offer. After doing some research and hearing the needs of the disabled community, I decided to cater my inclusive app design to their needs. Everything from trails, attractions, and restaurants were documented with different ability level accessibility icons. I also included big type and buttons, clear hierarchy, spacing, and high contrast to accommodate visual and physical impairments. As you can see in the Skills mentioned below there was a whole process in the making of this app. Overall, this underserved, but very important community's needs are now being met in this app design, to impact everyone's life for the better.
Skills:

Ideation, Pitch, Heuristic Evaluations, Research Plan, KWHL Chart, Screener Survey, User Interviews, User Research Recap, Personas, Empathy Maps, MVP Chart, User Stories, UI Requirements, User Flows, Sketching, Hand-drawn Wireframes & Prototype, XD Wireframes, Iconography, Typography, Creative Writing, Photo Treatment, Layout, App Design, XD Prototype & Artboards, Style Tile, UI Style Guide, Logo Design, App Icon Design, User Testing, Mockups, Presentation Deck

Programs:

Adobe XD, Illustrator, Photoshop, InDesign, After Effects, PowerPoint, Miro, POP Prototype Marvel App, Slack, Vimeo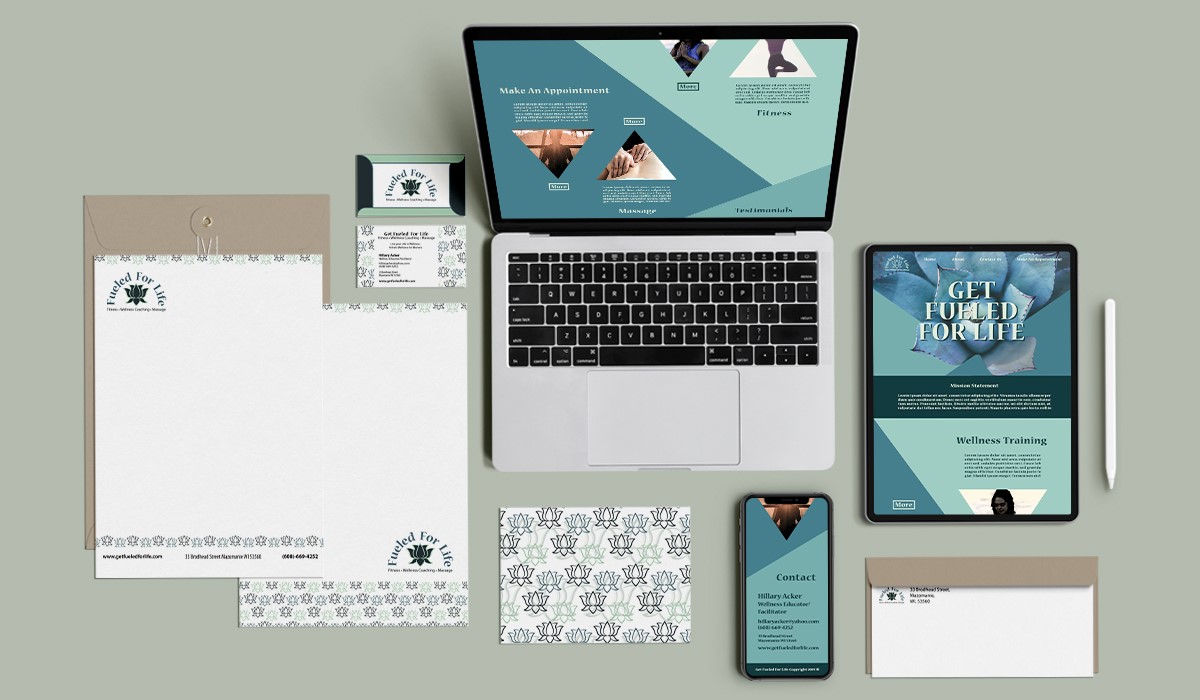 Fueled For Life
This design will for sure get you Fueled For Life after witnessing the visual effect this has on you! Fueled For Life is an extraordinary fitness, wellness coaching, and massage business, owned by a friend of mine. Her original branding didn't capture the true essence of her business, so I wanted to give it a fresh new look. After getting a sense for what her business meant to her and how she wanted her customers to feel, I started to concept her branding. I sketched different logo ideas and came up with a lotus symbol and color scheme. Then I animated the logo in After Effects. The logo was then made into a pattern to apply to the stationery needs of her business, carrying the visual voice of her new branding to a responsive website as well. To advertise, I put her logo on a T-shirt and a yoga mat. This total re-brand not only gives her clients the visual feel of what her business provides, but it helps draw in new customers to experience the all-around effect of a powerful design paired with a great local business.
Skills:

Rebrand, Branding, Logo Design, Sketching, Motion Design, Wireframing, Responsive Website Redesign, Apparel Design, Advertising, Stationery Design, Concepting, Mood Board, Idea Statement, Typography, Layout, Photo Treatment, Layout, Pattern Design, Illustrations

Programs:

Adobe XD, Illustrator, Photoshop, Adobe Animate, InDesign, After Effects, Vimeo