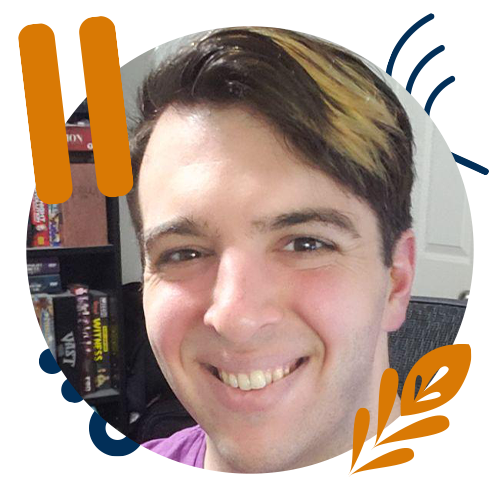 Marty Faigin
Visual Communications
My name is Marty Faigin, and I've been fascinated with video production for most of my life. The start-to-finish process is exciting and appealing to me, and I've always been quite the storyteller and craftsman of creative experiences. Today, I now understand how I can make my own mark through film, and possess the know-how to execute it. My fresh-out-of-college skill-set is something I can be proud of, yet I will always be wanting for more experience and further growth.
---
Demo Reel 2021
A collection of items across media that I've filmed and edited; this is a convenient way to view bits and pieces of my work which spans through solo and group work, projects made for clients, and YouTube content.
Skills:

Photography, Filming, Digital Footage Capture, Scriptwriting, Compositing, Image Editing, Video Editing, Motion Graphics

Programs:

OBS, Photoshop, Audition, After Effects, Premiere Pro
TurtleArmyJess Crafts Promotional Piece
An advert created for an Etsy shop focusing on commission work and featuring motion graphics. The client wanted to draw in the Dungeons and Dragons crowd with the allure of taking custom commissions of their original characters. Showcasing many plush dolls, highlighting the start-to-finish process, and displaying well-earned customer reviews were key in producing an attractive ad perfect for the client.
Skills:

Photography, Scriptwriting, Voice Capture, Compositing, Sound Editing, Video Editing, Motion Graphics

Programs:

Photoshop, Audition, Premiere Pro
WereHeart Ep. 1 - 428 Shibuya Scramble
The beginnings of my personal YouTube channel featuring myself and my antithesis character, centered around sharing and discussing video games. I needed to grab and hold onto any potential viewer's attention and surprise them with the juxtaposition of the character introduced later in the video, all while keeping the video generally focused on discussing one specific game. Through snappy script-writing and keeping scenes and motion graphics moving at a good clip, this video has received a decent amount of attention for a first YouTube video and I cannot wait to produce more.
Skills:

Filming, Digital Footage Capture, Sriptwriting, Voice Capture, Sound Editing, Image Editing, Video Editing, Motion Graphics

Programs:

OBS, Photoshop, Audition, After Effects, Premiere Pro
---