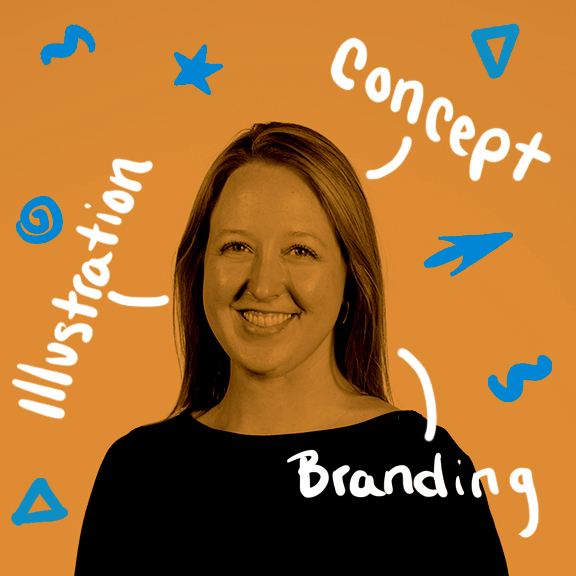 Graphic Design & Illustration
Laura Miller
ACCOUNT MANAGER TURNED GRAPHIC DESIGNER. I am a unicorn: an advertising professional who fuses account management skills with the creative strategy and technical process of graphic design. Working in the Madison advertising community for five years as an Account Executive and Sales Assistant, I managed the creation of deliverables in every advertising medium. My diverse account experience has taught me how to connect with brand audiences through sound research, savvy strategy and impressive, intriguing design. I appreciate and respect my years spent training for the client-side of the creative communications field; however, since starting back at school in Madison College's renowned Graphic Design program, I feel a stronger connection to my work and renewed curiosity for creating and learning more each day. Crafting compelling, unexpected design that connects with its audience in a meaningful, memorable way brings me satisfaction that I didn't experience before starting this new career path in graphic design.
---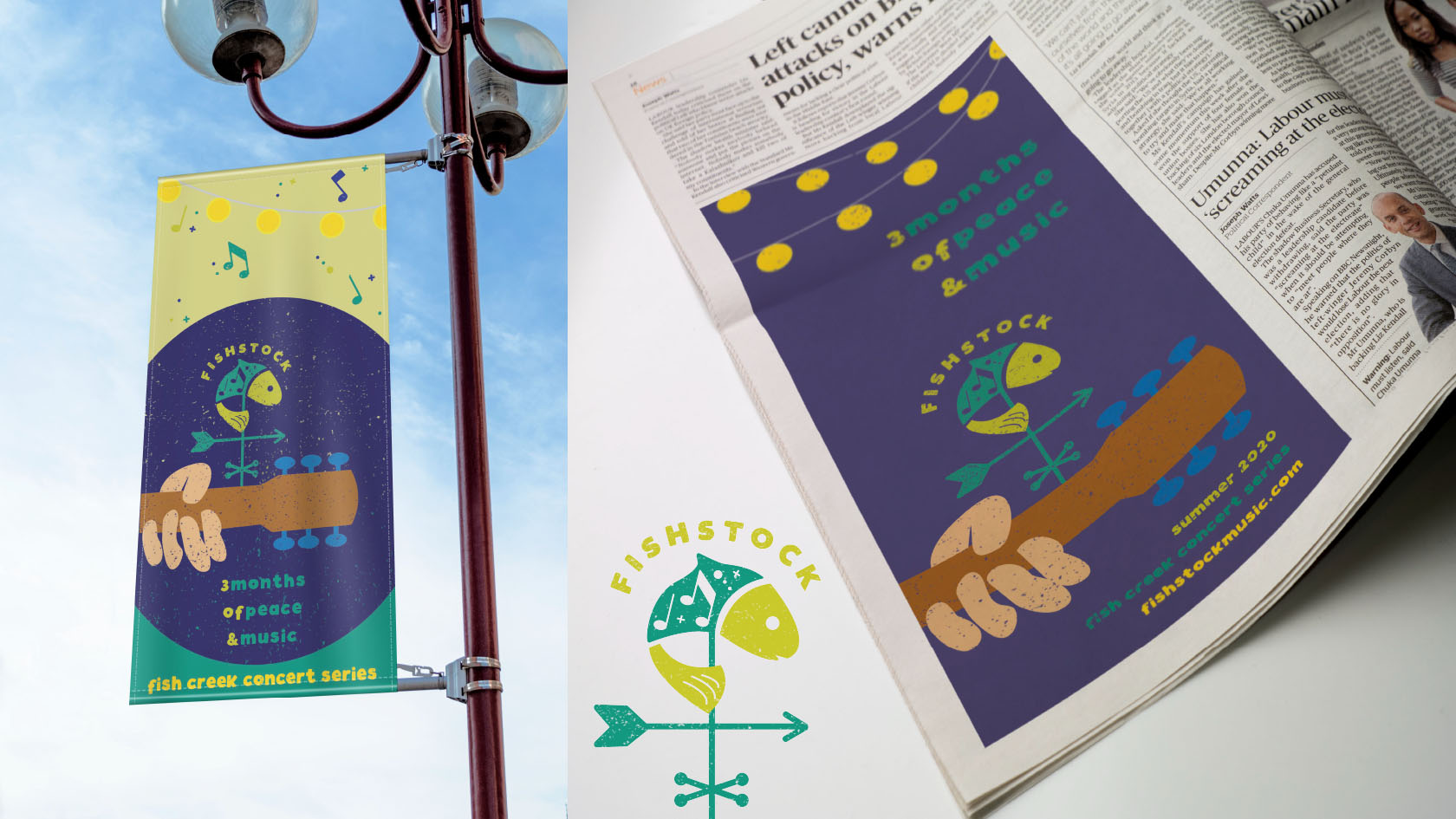 Event Branding & Promotion
Held in a rustic, antique Gothic barn in the middle of the Door County peninsula, with pathways of string lights illuminating the way to dancing, fun, and friends; Fishstock is an annual beloved live music concert series that runs June through August. The illustrated event branding created here captures the feeling of summer ease and fun musical enjoyment, with a design pairing of an homage to Woodstock 1969's event branding and the traditional weather vane.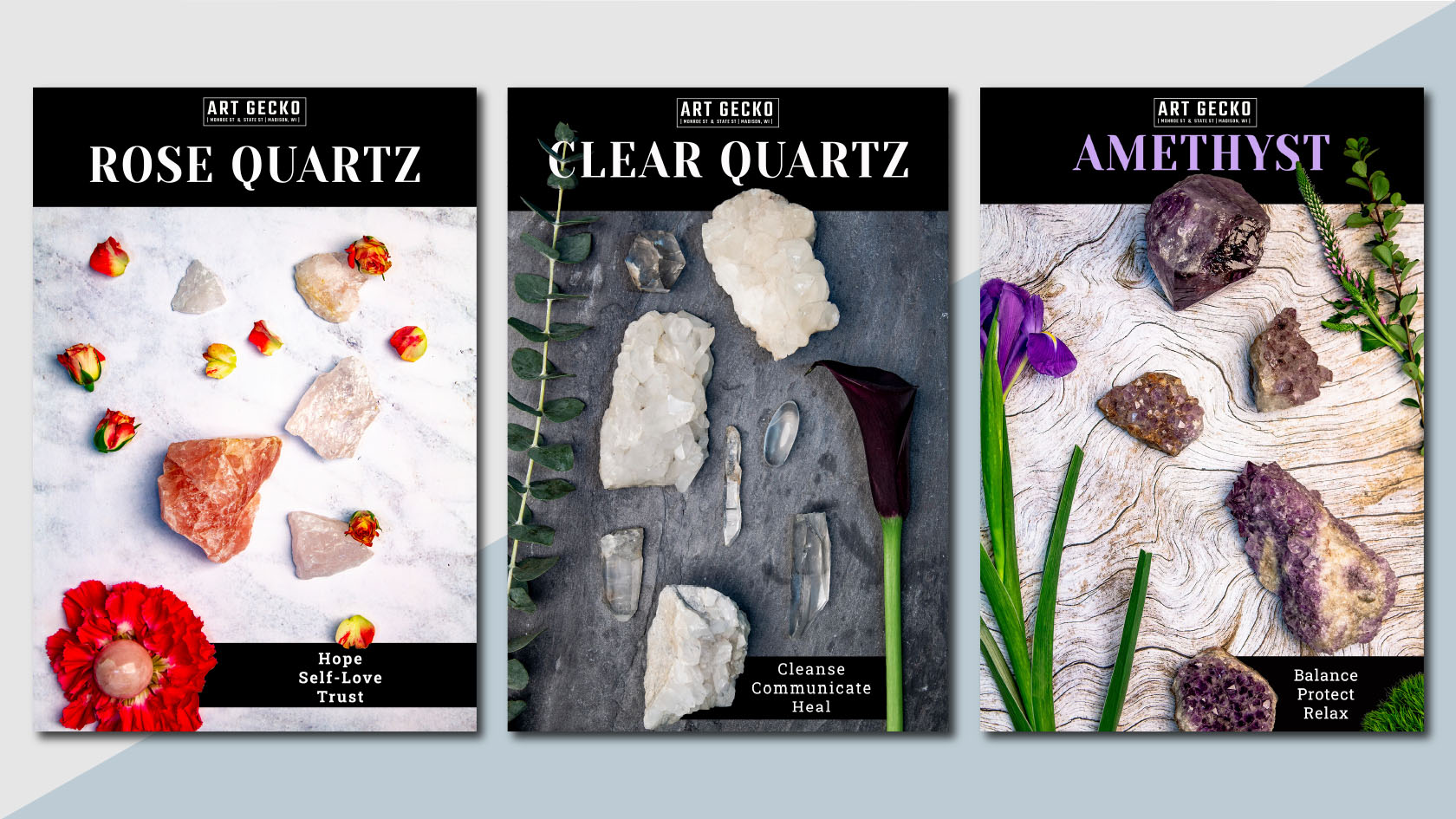 Ad Series Photography
Art Gecko is an eclectic jewelry and home goods store, with two locations in the heart of Madison, Wisconsin. Given the chance to learn flat lay photography in a studio setting, Art Gecko's mesmerizing gemstones collection quickly came to mind. The finished ad series invites viewers to learn more about the captivating gemstones via Art Gecko's beautiful store selections.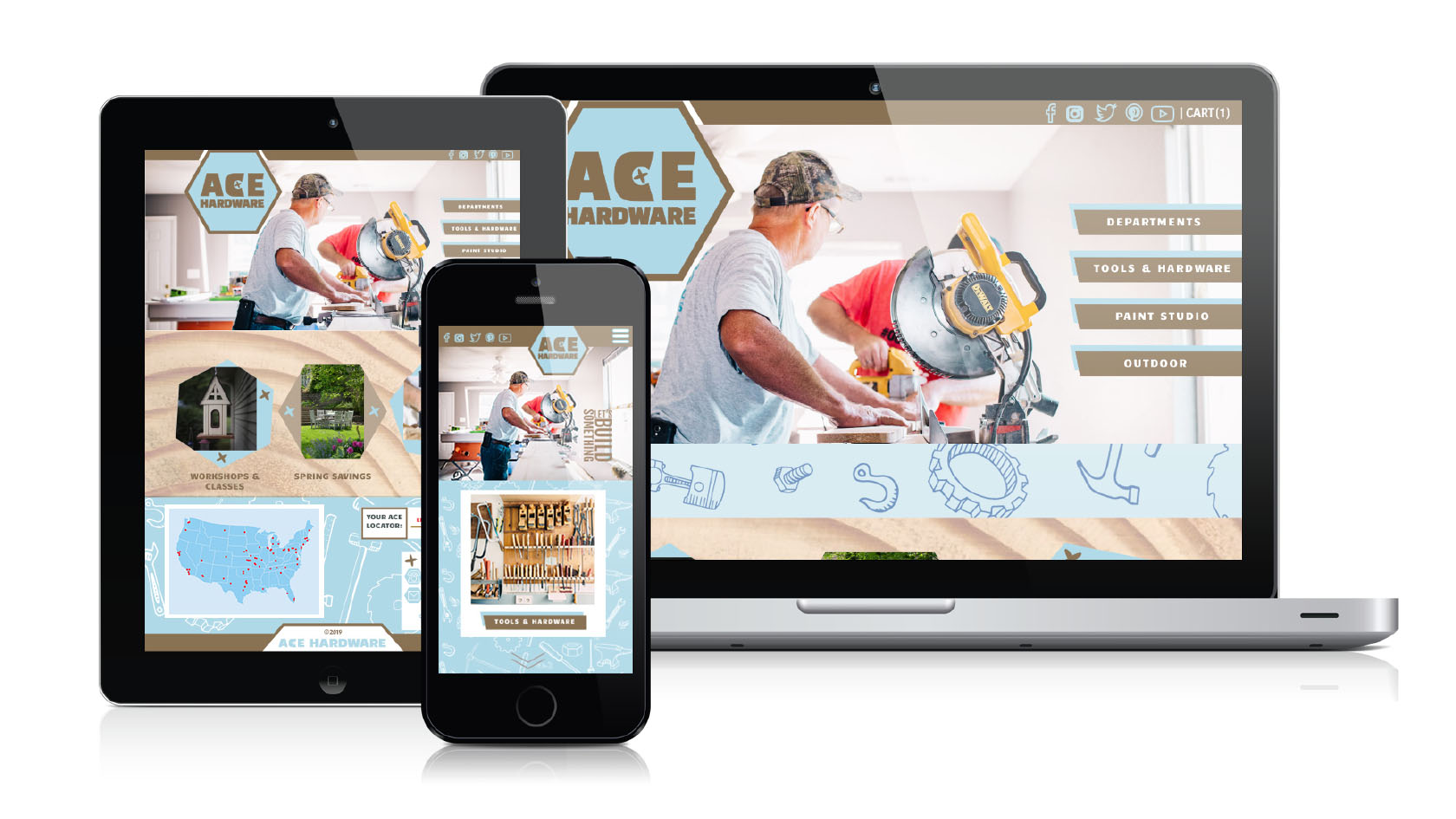 Visual Identity Rebrand & Web Design
Ace Hardware's current branding does not speak to the general public in an inclusive, gender-neutral way. By utilizing an uncommon color scheme, with clever nods to Ace Hardware's functionality and versatility, the brand's new look is timeless, while remaining down to earth.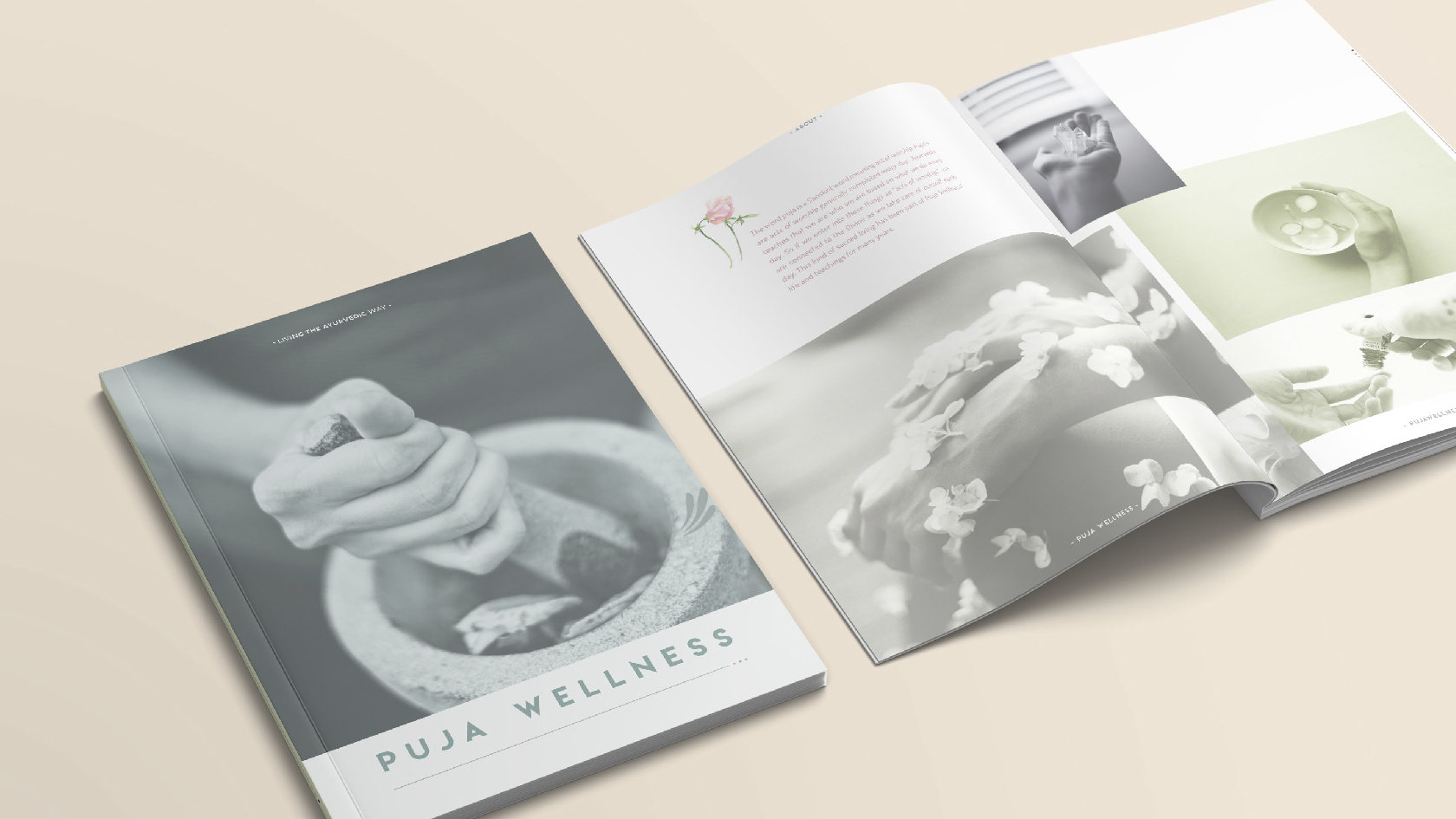 Brand Booklet
Ayurveda is an ancient, holistic approach to healing and wellness that began in India. Knowing I wanted to craft an inviting, soothing booklet for readers, I kept the design approach minimal and spacious, paired with a calming color palette.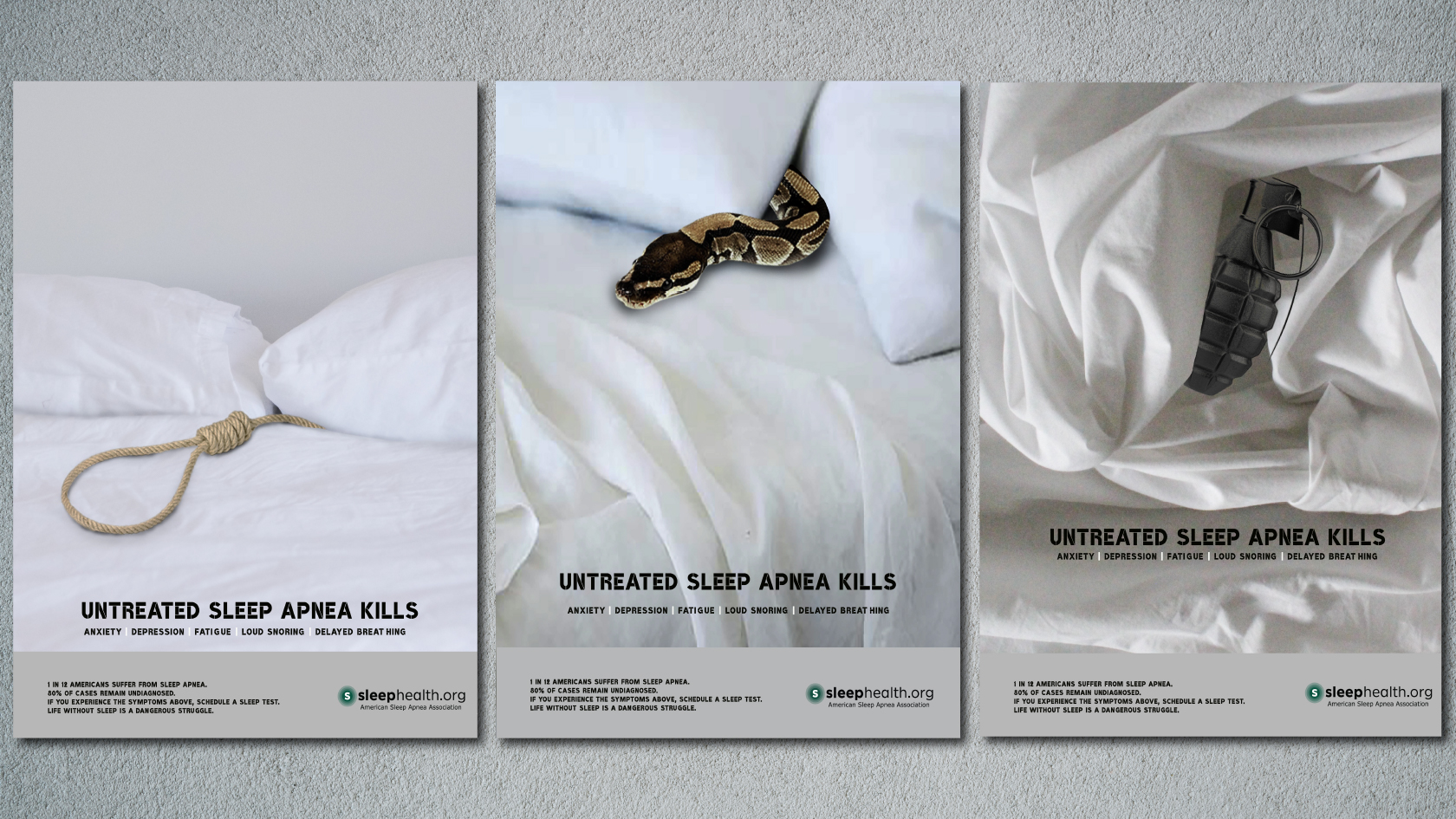 Public Service Announcement
Causing people's breathing to stop continuously during their sleep, sleep apnea is a serious sleep disorder. This PSA series draws viewers in with shocking imagery that portrays the reality of the risk of sleep apnea. Keeping the design clean and the crucial message clear, the lasting thoughts this PSA provokes will hopefully urge questionable sleepers to seek more information, for their life's sake.




---