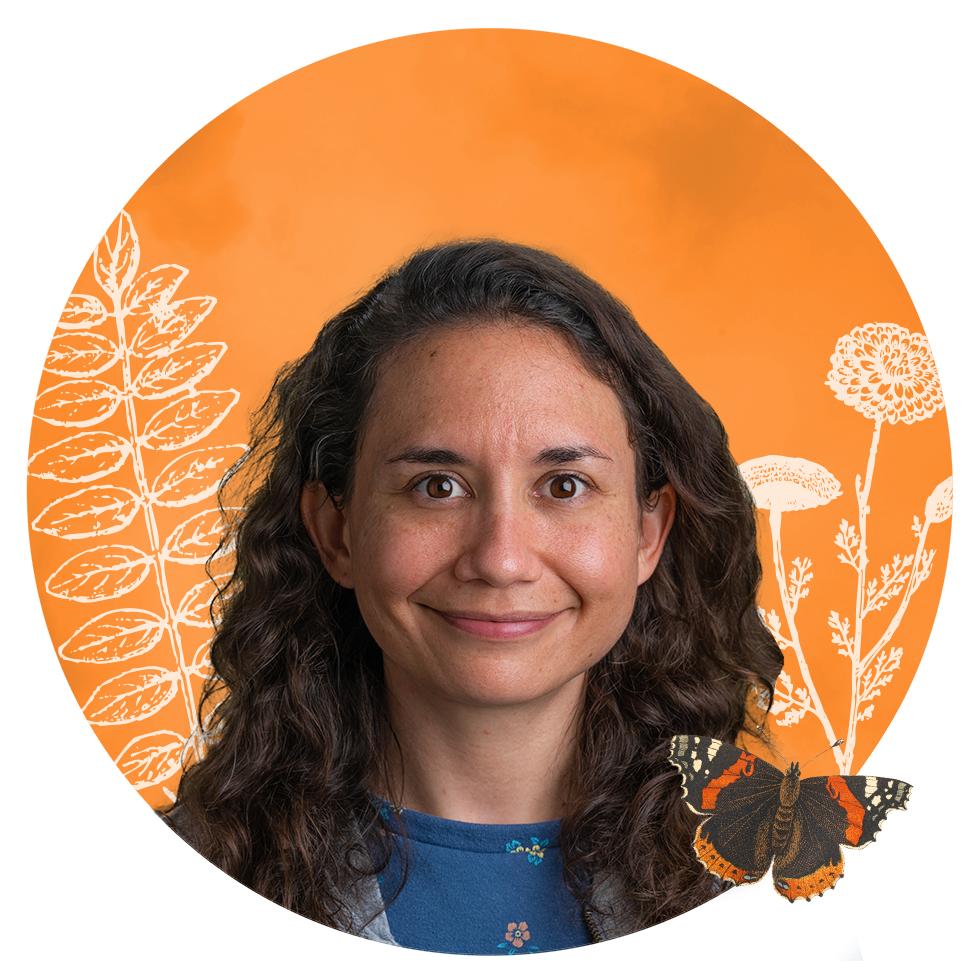 Liz Pardo
Visual Communications
I am an educator graduating from Madison College with my AA in Visual Communications (ViComm) this coming December. I joined the ViComm program in fall 2020 because I had become disillusioned with the efficacy of my teaching methodology. Essentially, the "read essays and write essays" method of teaching critical thinking to my all-age students was not helping them actually learn critical thinking. Now, I am looking forward to actually teaching critical thinking visually, and teaching my students how to address large-scale social issues in a positive and actually-impactful way.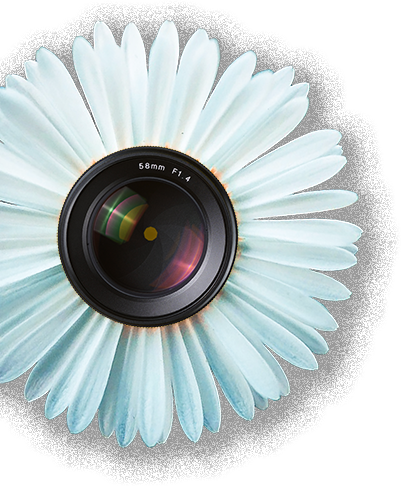 Demo Reel ("Liz Pardo, These Are Your Skills!")
When first presented with the concept of a demo reel, I wasn't sure which skills to showcase, and looking through all of my ViComm video projects brought up the dread of knowing I would have to look at the work I made when I was once not-great at making videos. As I got over the dread and drudgery of this initial part of the project, I realized that this demo reel should be a showcase—a "This is Your Life!" type celebration—of the entirety of my time at Madison College. I settled on a few key pieces that I felt showcased the best of the broad and deep skills I learned in the ViComm program, and assembled those pieces together in Premiere Pro. I am quite pleased with my demo reel.
Skills: greenscreening, asset creation, asset placement, special effects sounds, storytelling, videography, photography, video editing, video production, sound design, talent choreography, motion design
Title Sequence - "Night of the Living Dead"
My challenge with creating this title sequence for "Night of the Living Dead" was breathing the illusion of life (well, undead life) into an abstract piece of motion design that has to complement another story—the main film. I wanted to give the audience the complete visual experience, a piece with a storytelling arc that has a beginning, middle, and end. I presented the ragged, bleak, falling-apart world of George A. Romero through the concept of paper-ripping and time-repeats and time-glitches. I used YouTube and LinkedIn Learning to master two different paper-ripping effects in Adobe After Effects, and screen-recorded bits of "Night" to showcase four scenes from the film overlapping on themselves. I executed this piece particularly well, as the frantic pacing of the video and the uneasy instrumentals marry together beautifully to create a hideous and well-contained story of its own.
Pitch Reel - Six-Word Story into 1-Minute Narrative | Story: "you survived." "yeah, but why me?"
Bob Wickhem, our Advanced Video Production professor, challenged us to create a 1-minute narrative film based on a six-word flash-fiction story that we wrote. I am no stranger to flash fiction, so approaching this project from the writing side would not have been difficult for me. After an in-class meeting with one of an alumnus of our program, I decided to approach this project starting from a different side than I normally did—I started from the visual side. Deciding from my story what the visuals would be (as our class visitor stressed, "*show* the audience what's happening, don't tell the audience"), I pieced together a visually-compelling, emotionally-deep 1-minute narrative through footage I shot on my own camera and Adobe Stock footage. I compiled and edited all the footage in Premiere Pro, and I am deeply impressed with how visually complete this piece feels. Approaching visual narratives from the visual-storytelling side alone presented a new workflow for my writing, and I'm excited to keep using this skill moving forward.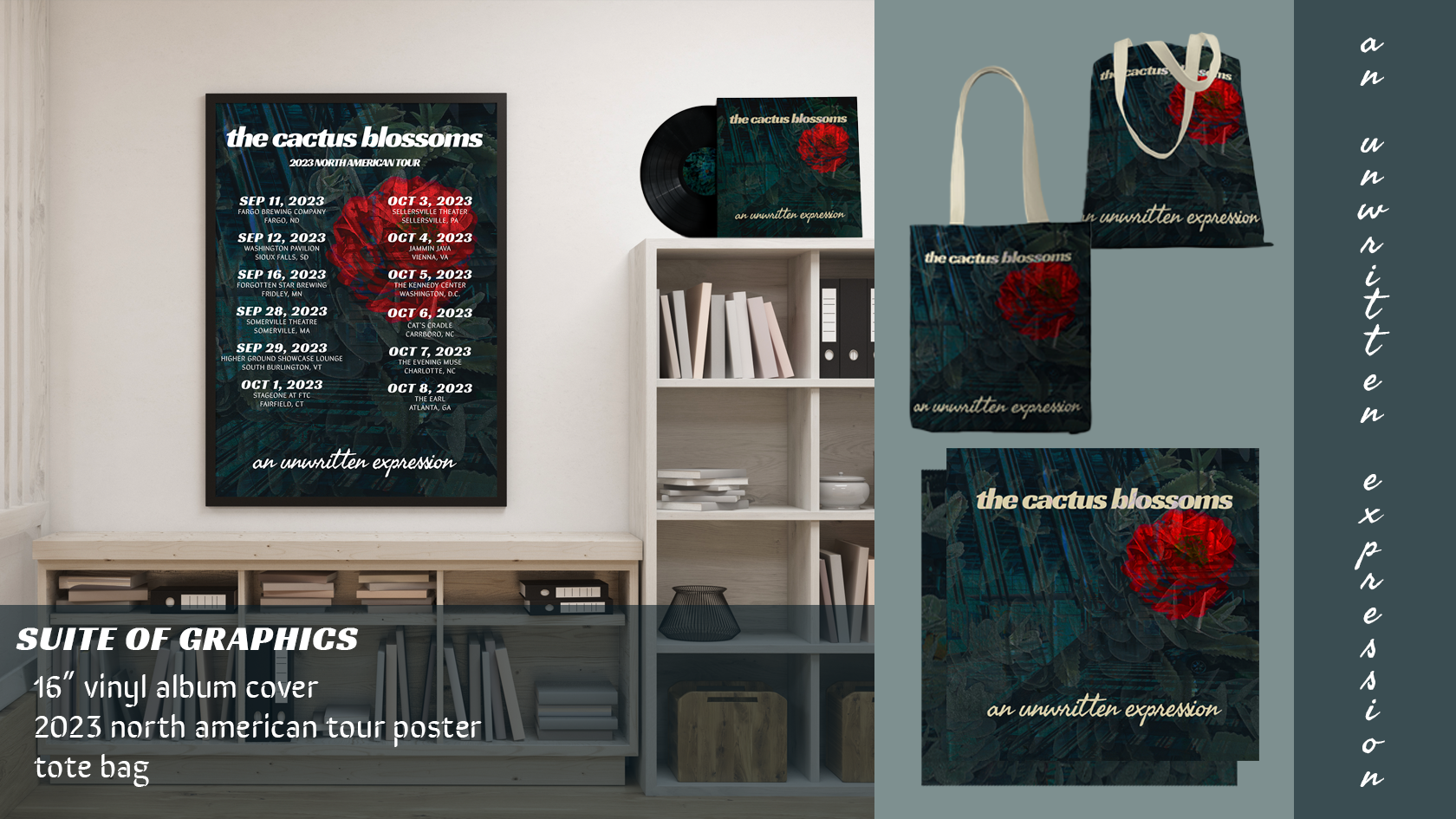 Suite of Graphics for Album - "an unwritten expression" by The Cactus Blossoms
This self-initiated project, a suite of graphics for the real band The Cactus Blossoms' hypothetical album "an unwritten expression," was an in-tandem project with another student, Valenzia Cina (illustration and graphic design), to strengthen my non-video based graphic-design skills. We conceptualized process-to-product flow for a physical product by taking into consideration real-world printing and real-world sizes and dimensions. Initially, we broke down what we wanted and needed in a design brief, then outlined our expectations for graphics, timelines, and deadlines. Then, using those self-initiated time limitations and deadlines, we met in-person and on Microsoft TEAMS throughout the fall semester, for the sake of discussing and critiquing artwork and assessing project completion. The result was two well-executed, deep-feeling concepts that presented different sides of The Cactus Blossoms' aesthetic. Additionally, we both are able to present two well-wrought projects with real-world print applications. I am very proud of our good work.
Skills:

client research, typographic design rules research, process to product creation and work flow, template usage and design

Programs:

Adobe Photoshop, Adobe Illustrator, Adobe InDesign, Adobe Acrobat Pro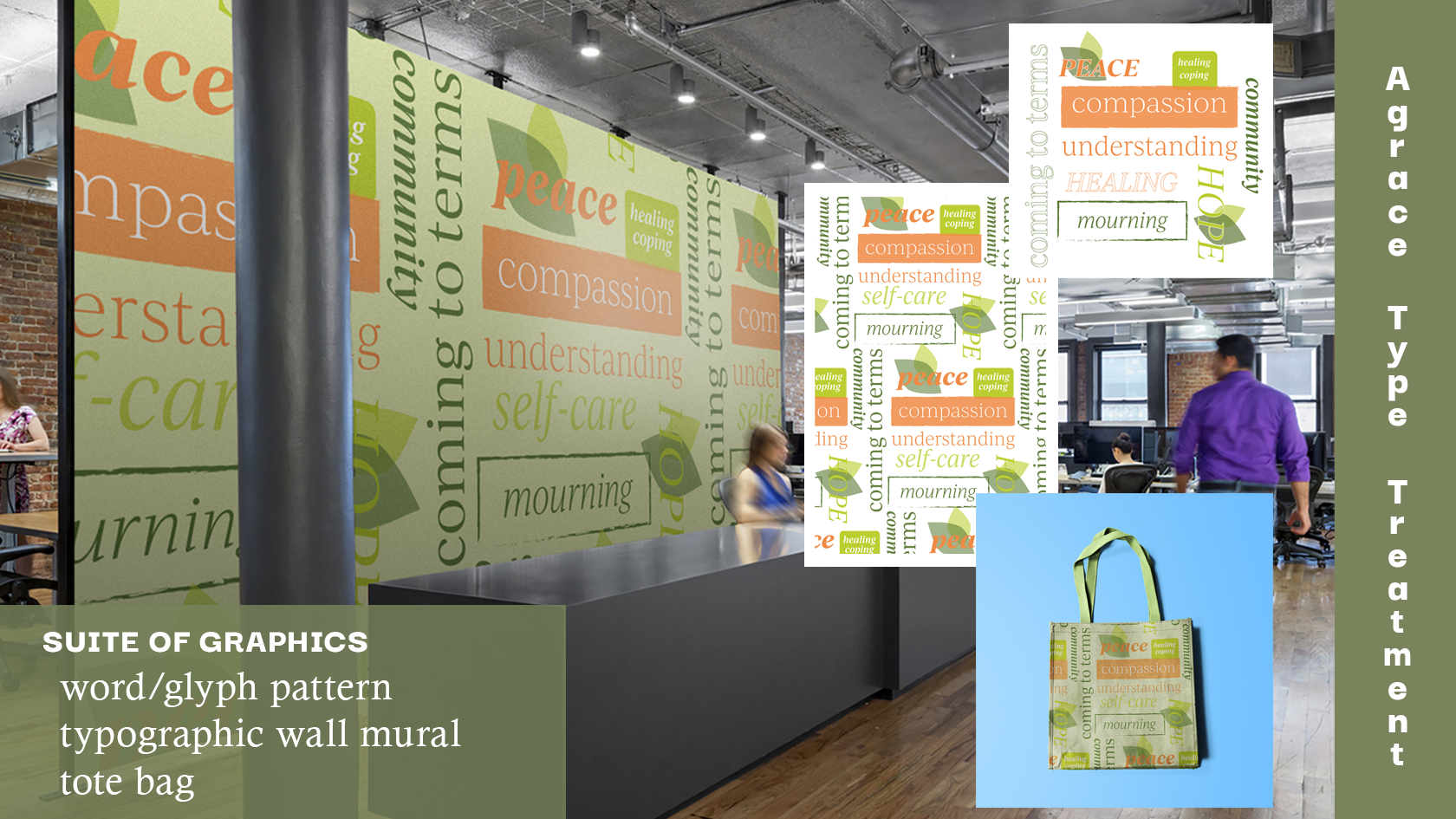 Typography Treatment - Agrace Grief Support
Near the end of the semester in Typography class, our professor challenged us to create a type treatment for a non-profit of our choosing. That treatment included: a list of words/glyphs that describes the client, a typographic pattern potentially featuring the client's logo, and that typographic pattern displayed correctly using real-world templates for real-world products or applications. I chose Agrace Grief Support, because I was able to rely on them to help me get through some of my emotionally and mentally darkest times of the pandemic. First, I researched Agrace Grief Support's website and print media, noting the color palette, font choices, words/language/syntax chosen, and general audience/message. Then, I took key concepts and distilled them into a list of words, narrowing them down to a dozen, set those words into an pattern using a square grid, and then a repeating pattern for physical products, in InDesign. I placed that pattern into a template for a wall mural and a tote bag. I think the pattern looks absolutely stunning on both the wall and the tote!
Skills:

client research, typographic design rules research, process to product creation and work flow, template usage and design

Programs:

Adobe Photoshop, Adobe Illustrator, Adobe InDesign, Adobe Acrobat Pro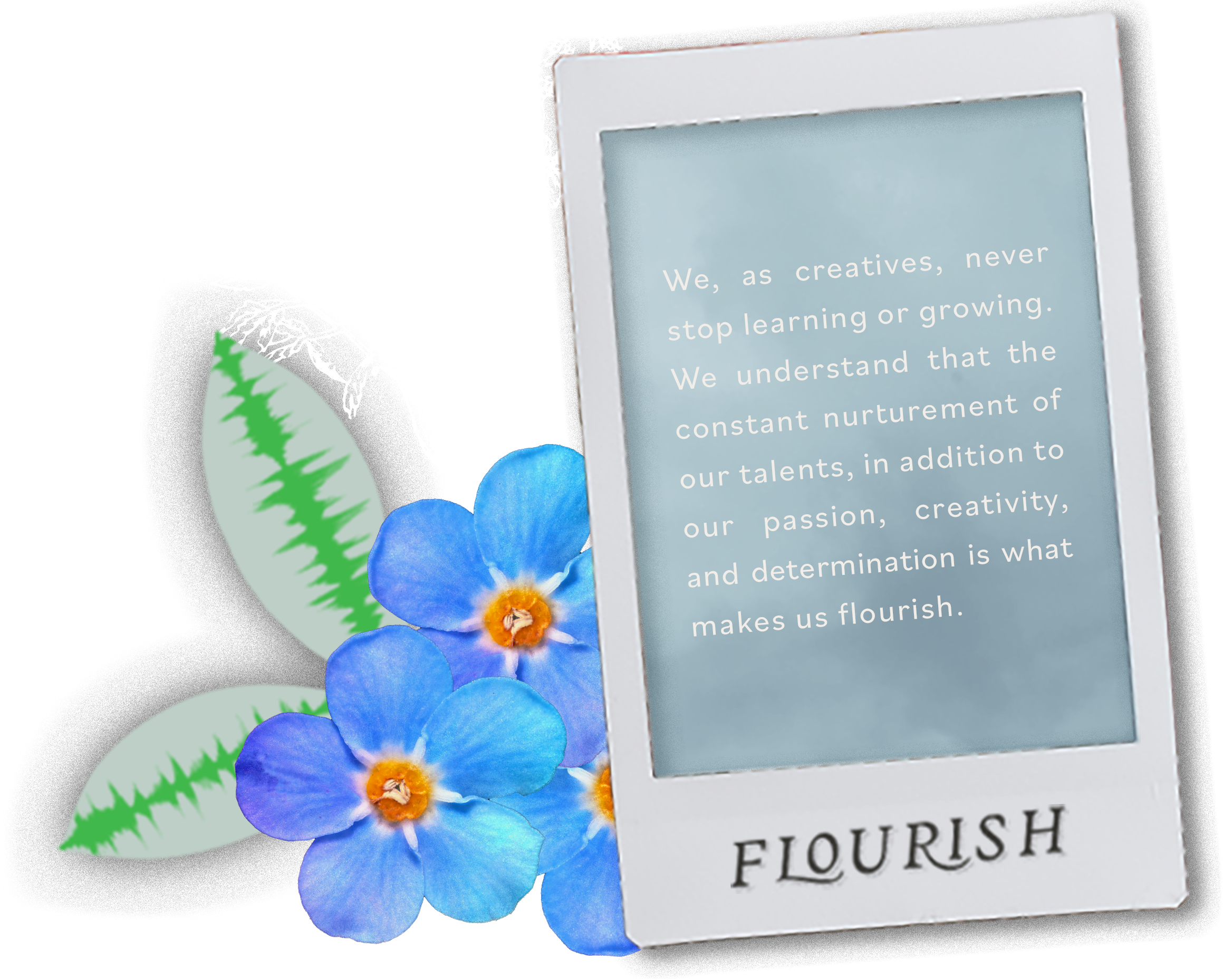 Archived Portfolios